Boring, predictable prayer will never save a nation.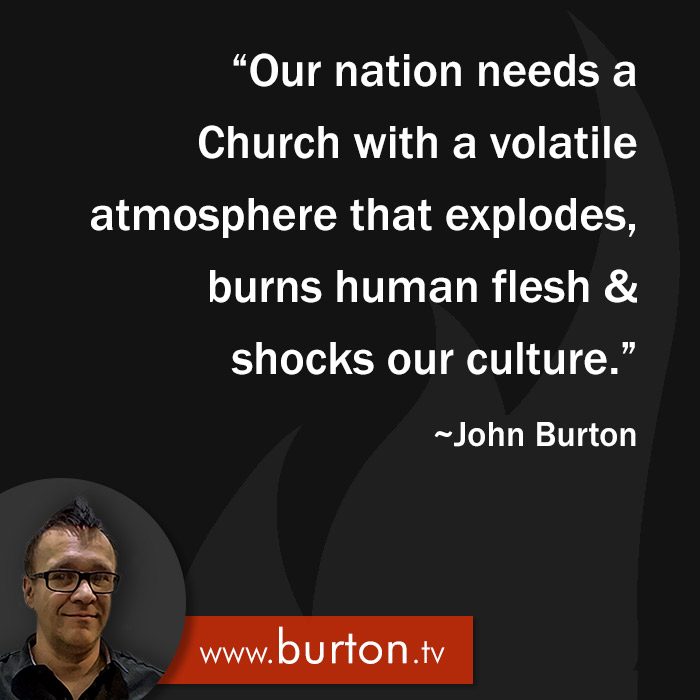 There's a reason most prayer rooms are empty.
I'm a prayer freak. Nothing invigorates me like passionate, Holy Spirit-driven intercession that results in stunning and miraculous moves of God. Absolutely nothing compares to being both in God's presence and in his will.
I also understand why so many are staying far away from the dry, dusty prayer rooms. Too many of these supposed calls to prayer are marked by unbelief and apathy while being devoid of the fire and the wind that were made famous in Acts chapter two.
Yet, more than any time in this planet's history, we need firebrands who will take up the mantle of fervent intercession. Without it our nation is doomed.
"Now my eyes will be open and my ears attentive to the prayer that is made in this place." (2 Chronicles 7:15, ESV)
IF PRAYER IS BORING, YOU ARE DOING IT WRONG.
Dastardly, wicked forces are overrunning America and too few are wielding our most potent and effective weapon, intercession. It will grant us dramatic victories that can come no other way. No measure of brilliantly crafted political talking points, well organized protests or grass roots uprisings against the various threats in our land compares. 
We need to discover the wild wonder of fervent intercession. Hitting our knees, pacing around a prayer room or collapsing in desperation at an altar with tears and cries will have profound impact. Living in the very presence of God, hearing his voice and experiencing the shock and awe of his movement is enough to cause any of us to never want to stop. Truly, if prayer is boring, something is off. There is no way to become disengaged when the Creator of the universe is manifesting in the place of prayer. The interaction, revelation, healing and overwhelming love that comes from our passionate intercession cannot be described.
Imagine living under a promise of God to be attentive to our prayer. That would be a game-changer for our nation. Unfortunately, I don't believe we have done what is necessary as a nation to step into that. In order for God to truly hear our prayers, much must be accomplished first.
"When I shut up the heavens so that there is no rain, or command the locust to devour the land, or send pestilence among my people, if my people who are called by my name humble themselves, and pray and seek my face and turn from their wicked ways, then I will hear from heaven and will forgive their sin and heal their land." (2 Chronicles 7:13–14, ESV)
Boring, predictable prayer will never save a nation. Vibrant, fiery, zealous, faith-filled and unrelenting prayer, however, will.
The famous verse found in 2 Chronicles 7:14 is often repeated but rarely adopted and the chaos and crisis in our nation is the result.
THE KEYS TO VICTORIOUS INTERCESSION FOR AMERICA
While there are numerous scriptures and passages in the Bible that give us clear direction regarding effective prayer, we cannot ignore the undeniable instructions found in 2 Chronicles 7.
Failure to consider any of the following points will compromise the mission. America will grow darker and the hope for revival will become dimmer.
ONE. GOD AT TIMES RESISTS NATIONS.
"And at this house, which was exalted, everyone passing by will be astonished and say, 'Why has the LORD done thus to this land and to this house?' Then they will say, 'Because they abandoned the LORD, the God of their fathers who brought them out of the land of Egypt, and laid hold on other gods and worshiped them and served them. Therefore he has brought all this disaster on them.' "" (2 Chronicles 7:21–22, ESV)
If we hold to a theological belief that God does not bring pestilence, disaster, famine and other judgments to nations, we will have no grid to begin our intercession. Many argue that God is the author of all that we would call good and Satan is the author of all that we would call bad. That doctrinal analysis, however, doesn't hold up to even an elementary review of Scripture. Others would say that all of this has changed in the New Covenant. While there were dramatic shifts after the death and resurrection of Jesus, God's role of judge hasn't changed. Justice has not been eradicated.
TWO. ARE WE TRULY HIS?
Verse fourteen starts, "if my people…"
If we aren't among the consecrated Bride of Christ, those who have filled their lamps with oil and who are radically surrendered to God, we must question whether we are his.
Regardless of whether we are saved or not, we must soberly consider if we are living a life devoted to Jesus. Are we embracing holiness and repentance as we pursue God with wholeheartedness? Or are we lukewarm and backslidden? The answer matters. Sin threatens intimacy with God which is instrumental as we contend for revival in our nation.
THREE. DO WE HAVE PRIDE?
If we are called by his name and if we humble ourselves we are on the right track. However, a lack of humility will stop us in our tracks. God resists the proud, and that's not good if we are attempting to have his ear.
FOUR. DO WE PRAY? 
"The effective, fervent prayer of a righteous man avails much." (James 5:16, NKJV)
If our life is marked by intense, continual prayer, we will see the wonders of God manifest in our lives and in our nation. 
FIVE. DO WE SEEK HIS FACE?
Spending hours seeking after God is a glorious pursuit. Read the Word of God, fill the room with anointed worship music and talk to him as a friend. This single discipline will transform your life for eternity.
SIX. HAVE WE TURNED FROM OUR WICKED WAYS?
James tells us the effective, fervent prayer of a righteous man avails much. Again, holiness matters. Unrepentant, continual sin of all types will result in judgment. Whether it's lust, unforgiveness, pride, apathy or any other forbidden issue, wickedness will destroy our nation, not save it.
I do believe the turning of our nation is a simple as adhering to 2 Chronicles 7. Fervent, passionate prayer from a repentant, surrendered church will usher in revival that will set America ablaze with the love and power of Jesus.