My Facebook profile is GONE! And, Saturday I'm teaching on The Terror of Hell at theLab…
FIRST: Have you applied for theLab Internship Fall session? Save $100 if you register by August 15th! Head on over to www.revivallab.com/internship TODAY!
---
I reached my limit of friends on Facebook, so I decided to move everybody over to a brand new Facebook page. The page is open to EVERYBODY IN THE WORLD! Check it out and LIKE it here:
http://www.facebook.com/pages/John-Burton/213119058738602
I also opened a NEW Facebook profile (the old one has been deleted)…and this time I'm going to limit my friends to people I actually know. I think it will be easier to manage that way. If I know you (meaning, we have conversed in person or online and we are actual friends) then, by all means, send me a friend request! Go here: http://www.facebook.com/johnedwardburton.
---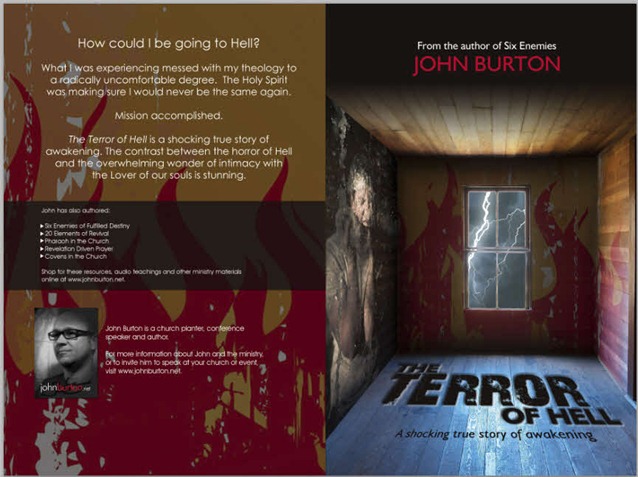 SATURDAY at theLab Internship I will be sharing my story of being dragged toward Hell 20 years ago. It's a moment in time that has resulted in a permanent tremble and fear of the Lord in my life. I'll share about God's zealous call for deep intimacy between us and him. It's a class that can forever change your life.
You can audit it for $15. Just show up at 10am and pay at the door (cash, credit card, check). The class lasts until 2pm.
I'm also revising my book The Terror of Hell and it will be available on Amazon and Kindle soon!
FIRST- I'm almost at my limit of 5,000 Facebook friends, so I'm moving over to a Facebook page. Head on over to www.facebook.com/johnburtonministries and connect!
---
Whatever you do, don't underestimate what God can do this Sunday evening at Revival Church. Michele Perry of Iris Ministries will be imparting supernatural life to all who are thirsty. Let me say it again—don't miss this rare and special opportunity!
---
**REGISTER ONLINE (IT'S FREE) at www.detroitrevivalchurch.com/events TODAY!
---
I know there's a lot going on in life, but it kinda, just a little bit, breaks my heart knowing that most people in Detroit are usually not invested in a ministry anywhere on Sunday evenings. Nearly an ENTIRE ARMY is out of commission!
Yep, you heard me right… we have a HUGE window of opportunity where most everybody in Detroit is AVAILABLE! We must be together and advance the Kingdom of God with passion!
Those people, along with the rest of us, have a life-altering chance to encounter God on Sunday night with Michele Perry. Plus, the phenomenal opportunity to do so every Sunday night is there as we at Revival Church contend for a regional outpouring. As a strategic and prophetic regional revival center, it's imperative that we connect with other regional churches on an on going basis.
Wouldn't it be amazing if several Senior Pastors, intercessors, worship leaders, evangelists and others were also on staff with us at Revival Church? What a unity driving, paradigm wrecking idea that is!
What if some of us at Revival Church were on staff at other ministries in the Detroit area?
As we work together, every week, with clear strategy and clear city church responsibilities, we'll get this job done!