Posts Tagged 'washington township'
There's a cry in the land for deep connections—and tomorrow night we will all have a blast growing close as a revival family!
If you are craving a deep connection with new friends, sons and daughters and mothers and fathers in the faith, this is for YOU!
All you have to do is drive to beautiful Washington Township the first Saturday of every month—starting TOMORROW, Saturday, February 2nd at 6pm!
Bring food to share with everybody else. We'll eat together, chat, relax, play ping pong (I'm extremely competitive and ready to humble you), pray and discuss how we can help each other in fulfilling our callings.
DON'T BE SHY
Amy often says, "To make friends you have to show yourself friendly." That means, don't be shy! Come alone or bring friends…but just come!
It's hard to connect at times, and we want to make it as EASY as possible for you to do so! We can't wait to get to know you better!
Oh yeah, BRING THE KIDS! We are masters at organized chaos!
---
WHEN: Saturday, February 2nd, 6pm
WHERE: 64639 Tara Hill Drive, Washington, MI 48095 (Click HERE for a map)
WHAT: Community, food, fun, prayer, discussion, more!
WHY: We all want more, amazing, fiery friends!!
---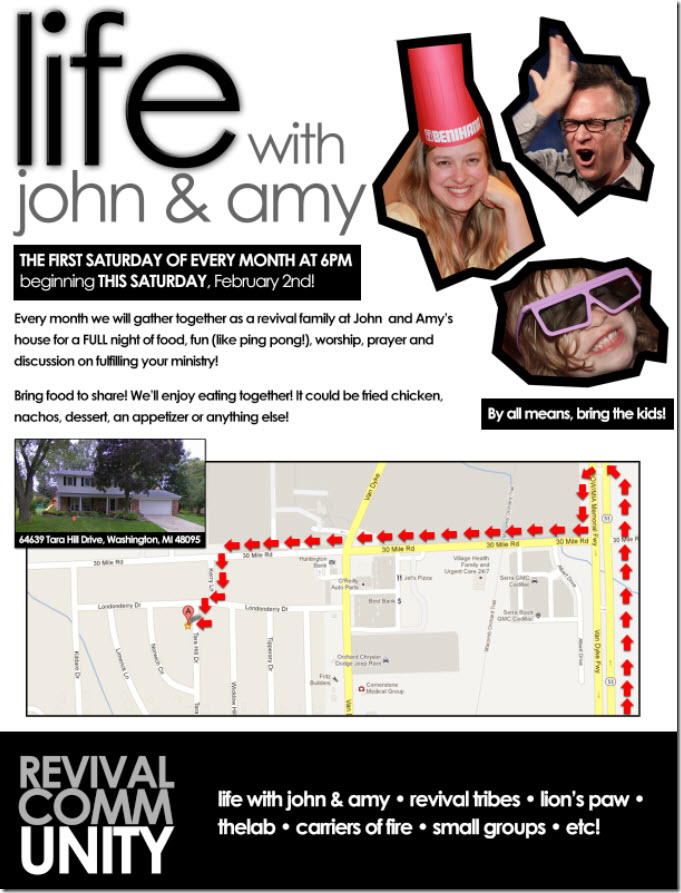 Revival Church North is a NEW church plant/satellite church currently in the planning stage!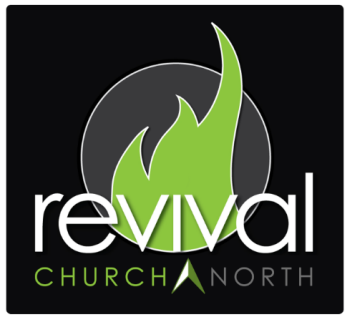 If you are an adrenaline junky and would like to participate in a NEW CHURCH PLANT, this may be the adventure for you!
Revival Church North is currently in the planning and development stage, and we will launch as a prayer-fueled, brand new, baby church in the coming weeks.
The plan is to plant it the same way we did Revival Church (the mother ship!)… EXCEPT, North will launch on Sunday mornings instead of Sunday evenings.
We are not asking any of our current staff or leaders to participate with the Burton family in this new venture (they are already SUPER invested at Revival Church and I don't want to add to their plates).
So, though there may be a few that do choose to help in this new mission, it's fully possible that we'll start by meeting in a small office or in our home… just Amy, the kids, me and anybody else who may wander in! Yep, it's back to worship with CD's, fervent prayer and big vision with a handful of Upper Room style people!
The Burtons will be moving to our new home in Washington Township in the next 3-6 weeks, and shortly after we'll start hunting for a small property to start the new church in.
Interested in more info? Want to join with us in this exciting new mission? Contact me directly at john@johnburton.net!
What about the Mother Ship?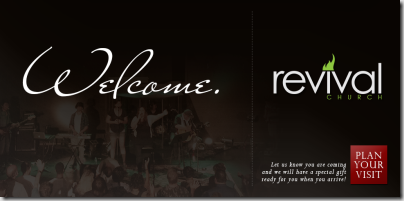 Everything will remain as it has been at Revival Church! The vision will keep developing, theLab is still key and the dreams will keep coming!
And, yes, I'll be as invested (or more!) than ever! I'll minister in the morning at our new satellite church and in the evening, as usual, at Revival Church!
(By the way, have you registered for theLab School of Fire?! Don't delay! Register at www.revivallab.com today!)
AND, have you seen our BRAND NEW WEBSITE?
This one is for potential visitors… they can visit the site, learn about Revival Church and let us know they are coming! We'll be ready for them with a gift for their first visit!
Head over to www.explorerevival.com!