Posts Tagged 'first united methodist church'
Someone came up to me tonight as the fire was falling and said, "The trembling has returned."
The fire is falling! The tremble is increasing!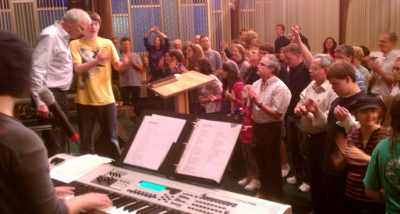 Brian Simmons will be with us at Revival Church for the third Sunday in a row tomorrow at 6pm!
We meet in the First United Methodist Church building at 24036 Greater Mack in St. Clair Shores, MI.
Bring everybody you can find and get them ready to experience a 'suddenly' of God.
It's time we repent for a powerless, miracle-less spirituality! God is power! Ahhhhh! Can you feel it??!
See you at Revival Church!
FIRST—Don't forget to register for the upcoming THE THINNING OF THE VEIL CONFERENCE with Michele Perry. The registration goes up on July 1st. You can do so at www.detroitrevivalchurch.com/events.
---
I don't usually post my sermon notes (they are in outline form and I wonder how easy they are to follow), and I certainly don't usually post them before I even teach them, but I feel this is a strong prophetic message for the church and it has the chance to really bless you.
I'll be teaching this tonight at Revival Church at 6pm. If you are within 100 miles of Detroit, and don't have a church service of your own tonight, BY ALL MEANS drive on out and join with us in a joy-packed, prophetic-filled atmosphere of fire!
We're meeting in the First United Methodist Church building at 24036 Greater Mack in St. Clair Shores, Michigan. We're easy to find, between 9 Mile and 10 Mile roads.
Here's my notes—I pray the spirit of interpretation come upon you as you read!:
Revelation Unto Mission—Jonah's Story
I. The Word of the Lord
a. It's troubling to me that people attempt to live their lives outside of God's Rhema activity.
i. Jonah 1:1 (ESV) Now the word of the Lord came to Jonah the son of Amittai, saying,
ii. Of course, Jonah was being called into a world changing mission, and it's a mission he would not even know about if he didn't hear God.
iii. This issue plagues Believers around the world. The Word is rare to them.
iv. Let's look briefly at the story of Samuel and Eli.
v. 1 Samuel 3:1-11 (ESV) 1 Now the young man Samuel was ministering to the Lord under Eli.
1. Note that Samuel was involved in ministry to God.
vi. And the word of the Lord was rare in those days; there was no frequent vision. 2 At that time Eli, whose eyesight had begun to grow dim so that he could not see, was lying down in his own place. 3 The lamp of God had not yet gone out, and Samuel was lying down in the temple of the Lord, where the ark of God was.
1. He was where the ark of God was… just being in God's presence changes everything!
vii. 4 Then the Lord called Samuel, and he said, "Here I am!" 5 and ran to Eli and said, "Here I am, for you called me." But he said, "I did not call; lie down again." So he went and lay down.
1. God's voice was so clear that Samuel mistook it for a human.
2. When God talks, we should know him.
3. If our spouse were to show up at the house, we wouldn't require their ID and a DNA test before we let them in. We know them. In similar fashion, we should know God!
viii. 6 And the Lord called again, "Samuel!" and Samuel arose and went to Eli and said, "Here I am, for you called me." But he said, "I did not call, my son; lie down again." 7 Now Samuel did not yet know the Lord, and the word of the Lord had not yet been revealed to him.
1. Did you get this? Samuel was involved in ministry, but did not know God! He never had an encounter, never communed with him! He never heard his voice!
ix. 8 And the Lord called Samuel again the third time. And he arose and went to Eli and said, "Here I am, for you called me." Then Eli perceived that the Lord was calling the young man. 9 Therefore Eli said to Samuel, "Go, lie down, and if he calls you, you shall say, 'Speak, Lord, for your servant hears.' " So Samuel went and lay down in his place. 10 And the Lord came and stood, calling as at other times, "Samuel! Samuel!" And Samuel said, "Speak, for your servant hears."
1. This isn't a simple statement! This is a key goal of this ministry and of God—to get his servants to hear!
x. 11 Then the Lord said to Samuel, "Behold, I am about to do a thing in Israel at which the two ears of everyone who hears it will tingle.
1. The mission was about to be revealed.
b. Now, back to Jonah and his impending mission
i. We want to do all we can to avoid living a Jonah 3:1 life.
ii. Jonah 3:1-2 (ESV) 1 Then the word of the Lord came to Jonah the second time, saying, 2 "Arise, go to Nineveh, that great city, and call out against it the message that I tell you."
1. What happened between Jonah 1:1 and Jonah 3:1 is enough to destroy most people.
2. Chapter two is the prayer of Jonah… he's is begging God to rescue him from his hell… it's a common cry of Believers everywhere.
3. Let's look at Jonah 1:1.
c. Jonah 1:1-2 (ESV) 1 Now the word of the Lord came to Jonah the son of Amittai, saying, 2 "Arise, go to Nineveh, that great city, and call out against it, for their evil has come up before me."
i. Nineveh was the capital of the Assyrian empire, and one of the largest. It was three days journey in circumference.
ii. Some estimate that 2,500,000 people lived in Nineveh.
iii. It's also presumed that as a prophet, Jonah had but this single mission.
iv. He was born for Nineveh.
d. Being open to God's voice in our lives will result in a lifestyle of inconvenience, challenge and impossible mandates. It will cause huge, huge problems in our lives, and it will cause damage and bring calibration to our lifestyle.
i. But, like Samuel, as we understand our roles to bring reformation and calibration to the church and to the world, we'll see that our words won't fall to the ground. We will function in power as we hear God and release decrees and declarations.
ii. Unlike Samuel, who was residing in God's presence, and responded to God's voice and delivered a difficult message to Eli that had every opportunity for offense, Jonah ran from God's presence. The message and the mission was too costly.
iii. Jonah 1:3 (ESV) But Jonah rose to flee to Tarshish from the presence of the Lord. He went down to Joppa and found a ship going to Tarshish. So he paid the fare and went on board, to go with them to Tarshish, away from the presence of the Lord.
iv. Jonah 1:4 (ESV) But the Lord hurled a great wind upon the sea, and there was a mighty tempest on the sea, so that the ship threatened to break up.
1. Some of you might be there.
a. Your goal? Hear God's voice and run in the right direction. Simple.
b. Is everything around you breaking up? Are you on your way to your mission or moving away from it?
v. Jonah 1:5 (ESV) Then the mariners were afraid, and each cried out to his god. And they hurled the cargo that was in the ship into the sea to lighten it for them. But Jonah had gone down into the inner part of the ship and had lain down and was fast asleep.
1. Jonah was asleep, full of apathy, seeking out comfort.
2. This is plaguing the American church! We have created a place of comfort instead of advancing in a prophetic mission!
3. God is sending the waves and that boat is close to breaking up!
e. Now, watch this—this same scenario is about to be played out in the Church.
i. Jonah 1:6 (ESV) So the captain came and said to him, "What do you mean, you sleeper? Arise, call out to your god! Perhaps the god will give a thought to us, that we may not perish."
ii. Authorities are going to come to us for help—will they be disgusted as they find the church asleep?
iii. They will cry out, "Wake up! Perhaps your God will be the answer!"
iv. Now, watch this.
v. Jonah 1:7-10 (ESV) 7 And they said to one another, "Come, let us cast lots, that we may know on whose account this evil has come upon us." So they cast lots, and the lot fell on Jonah.
1. It will be CLEAR to the world why devastation has come.
2. The church tends to blame the liberal left, the homosexual agenda, abortionists… but, judgment comes first to the house of God!
vi. 8 Then they said to him, "Tell us on whose account this evil has come upon us. What is your occupation?
1. That is a critical question! What are we occupying ourselves as a prophetic people with? The world will ask!
vii. And where do you come from? What is your country? And of what people are you?" 9 And he said to them, "I am a Hebrew, and I fear the Lord, the God of heaven, who made the sea and the dry land." 10 Then the men were exceedingly afraid and said to him, "What is this that you have done!" For the men knew that he was fleeing from the presence of the Lord, because he had told them.
1. They knew! Pagan idolaters' knew Jonah was fleeing God's presence!
viii. The world is angry… and this next statement is eye opening:
ix. Jonah 1:11 (ESV) Then they said to him, "What shall we do to you, that the sea may quiet down for us?" For the sea grew more and more tempestuous.
1. So life can get better, what must we do to the Christian church?
2. They are mad!
3. They are looking to eliminate us not because our values collide, but because we have failed to bring life to their reality!
x. Jonah 1:13-16 (ESV) 13 Nevertheless, the men rowed hard to get back to dry land, but they could not, for the sea grew more and more tempestuous against them. 14 Therefore they called out to the Lord, "O Lord, let us not perish for this man's life, and lay not on us innocent blood, for you, O Lord, have done as it pleased you." 15 So they picked up Jonah and hurled him into the sea, and the sea ceased from its raging. 16 Then the men feared the Lord exceedingly, and they offered a sacrifice to the Lord and made vows.
f. Take Two:
i. Jonah 3:1-4 (ESV) 1 Then the word of the Lord came to Jonah the second time, saying, 2 "Arise, go to Nineveh, that great city, and call out against it the message that I tell you." 3 So Jonah arose and went to Nineveh, according to the word of the Lord. Now Nineveh was an exceedingly great city, three days' journey in breadth. 4 Jonah began to go into the city, going a day's journey. And he called out, "Yet forty days, and Nineveh shall be overthrown!"
1. That is an excellent verse to use in regard to 'failed' prophecy.
2. Of course, we know that Nineveh was not overthrown.
3. Today, heresy hunters would be all over Jonah and decry him as a false prophet.
4. Often, a purpose of prophecy is for it NOT to come to pass!
ii. Jonah 3:5 (ESV) And the people of Nineveh believed God. They called for a fast and put on sackcloth, from the greatest of them to the least of them.
1. God's plan worked.
2. All of Jonah's running and fear and disaster could have been avoided… his mission could not have been more simple… he simply went to a city and voiced a single sentence: In forty days Nineveh shall be overthrown! Mission fulfilled.
3. His whole life was about saying that single sentence and saving a city!
g. As Kingdom people respond or fail to respond, authorities will be impacted.
i. We see the captain of the ship seeing out Noah as he slept.
ii. We see the king of Nineveh respond as Noah obeyed.
iii. Jonah 3:6-9 (ESV) 6 The word reached the king of Nineveh, and he arose from his throne, removed his robe, covered himself with sackcloth, and sat in ashes. 7 And he issued a proclamation and published through Nineveh, "By the decree of the king and his nobles: Let neither man nor beast, herd nor flock, taste anything. Let them not feed or drink water, 8 but let man and beast be covered with sackcloth, and let them call out mightily to God. Let everyone turn from his evil way and from the violence that is in his hands. 9 Who knows? God may turn and relent and turn from his fierce anger, so that we may not perish."
h. The last chapter of Jonah reveals what may have been the problem all along.
i. He was so distraught after the miraculous taking of an ENTIRE city!
ii. How can this be? Because of his selfish nature… his prophecy didn't come to pass… the city was not destroyed… and he was concerned about his reputation… he didn't want to be called a false prophet.
iii. He seemed to be more about reputation and self-preservation than he was about his Father's business.
iv. This uncrucified quirk cost him dearly.
---
First, check out our new website for Revival Church.  We may be holding our Sunday evening services at the First United Methodist Church on Greater Mack, so stay tuned for updates.  The website is www.detroitrevivalchurch.com.
"The coming moves of God will require nothing short of a revolution of our current structures, models and mindsets. Not an adjustment or an enhancement, but deep reform. The resulting fire and presence of the Holy Spirit will cause us to marvel and wonder why we ever resisted at all."- John Burton
I'm deeply provoked.  While I understand the value of due process, something deep within can't shake the prophetic cry for sudden reformation in our churches.
God zealously loves the church, and I'm convinced he loves it too much to allow it to remain in its current form without some divine pressure.
The church must change. Now.  The picture of Amy above is key.  She mentioned that revival will only come to Detroit if we go to the place of agony, of groans and visibly shaking screams from our spirit.  We must press like Amy did when she was contending for the life of our daughter on stage in Lakeland.  Look at her face and never forget it.
I bet I've heard similar messages hundreds of times over the last ten years or so, yet we still resort to the familiar.
I simply can't shake this.  Nor do I want to.  A burning is coming to Detroit, and we must be contending for it to arrive sooner than later.
This burning will threaten more than most of us are willing to risk.  As churches raise the bar, intercede night and day, stimulate the heavy activity of the Holy Spirit and embrace an "I couldn't care less" John the Baptist style disposition that cries continually for the arrival of Jesus- many will leave.  Many will be offended.  People we rely on to run our programs, to pay their tithes.  Everything is at risk- money, people, reputation, 401ks, mortgage payments- everything.
However, the remnant who aren't in it for their on security or satisfaction or affirmation will die daily and contend in unity for Jesus to arrive in power.
We, as simple and weak humans, are going to do our best to allow God to form Revival Church with all of this in mind.  I believe it's important for all of us to be in position, fully on fire and ready to burn night and day. 
Detroit needs prophetic, cross-bearing churches on fire, night and day, in order for this revival to hit.
Pray for reformation.  Pray against the American culture and calendar that has demanded submission.  Pray for radical transformation in the church- from the way we pray, to the children's ministry to the increase of white hot fire in the midst of our events.  Pray for an end to Sunday only church.  Pray for an end for the need for 'seeker' ministry as the flames of God's fire transform these people in the midst of a shaking, trembling Upper Room style church.
And, in addition to praying for it- let's just do it.  We're not waiting on God.  We don't have to convince him of the need for revival.  He's waiting on us to just do it.