Do we trust God's message enough to risk everything to share it?
Then the word of the LORD came to Jonah the second time… Jonah 3:1 (ESV)
We never want to cause God to bring his word to us more than once. Jonah was resistant. We are all familiar with the story. The mission the Lord gave Jonah was a critical one, and he wasn't about give up over the childish, selfish approach of his prophet. Nineveh needed to hear from God, fast, and Jonah was the man to bring the message. The longer I live the more dismayed I become at the state of preaching and prophetic ministry. While there is a small, raging, faithful remnant that is operating out of the fear of the Lord in these dire end times, the normal approach to preaching in our nation is cautious at best, outright rebellious at worst. Human wisdom has taken over numerous pulpits. Many are trading unchangeable truths in Scripture for a modified version that seems more godly, and less costly. For example, I asked a question on Facebook recently: If a professing Christian was caught in sin such as greed, pornography, gossip or other intentional failures, and they repeatedly refused to repent, what should happen? Many rejected Matthew 18 as too severe. They generally replied by saying we should pray for them, keep them in the church so they can hear the truth, be patient, etc. That sounds good, but it's not biblical. They are attempting to extend a type of mercy that God never intended them to.
"If your brother sins against you, go and tell him his fault, between you and him alone. If he listens to you, you have gained your brother. But if he does not listen, take one or two others along with you, that every charge may be established by the evidence of two or three witnesses. If he refuses to listen to them, tell it to the church. And if he refuses to listen even to the church, let him be to you as a Gentile and a tax collector. Matthew 18:15-17 (ESV)
Cultural resistance to any hint of judgment has caused many American preachers to go soft and silent. Churches are crawling with immoral people who name the name of Christ, and we as leaders will have blood on our hands if we don't deliver a sobering message of repentance to our nation. The Bible is extremely clear on this point. We must judge with a heart of love and sobriety for the sake of the church:
 But now I am writing to you not to associate with anyone who bears the name of brother if he is guilty of sexual immorality or greed, or is an idolater, reviler, drunkard, or swindler—not even to eat with such a one. For what have I to do with judging outsiders? Is it not those inside the church whom you are to judge? God judges those outside. "Purge the evil person from among you." 1 Corinthians 5:11-13 (ESV)
The Bible reveals in the end-times, people will call evil good and good evil. While church leadership as a whole isn't at the point of calling sexual sin good, the lack of action as demanded by Scripture reveals that some leaders are calling evil something less than evil. Weakness. Struggle. Human nature. They wish to extend mercy to those who willfully continue in their deliberate decision to defy God. There comes a time when we must trust God's wisdom and understand the unrepentant are evil. Period. Boy, that sounds self-righteous, doesn't it? No, it doesn't, unless you've been conditioned by the politically correct, religiously correct culture we are living in today. In truth, it's not self-righteous. It's simply righteous. We can, and must, have a heart of compassion and eyes filled with tears as we witness people rejecting God and his standards. Those tears however can't result in a failure to exercise biblical protocol. There does come a time when we must act, no matter how terrible the action might feel. God can be trusted.
It is actually reported that there is sexual immorality among you, and of a kind that is not tolerated even among pagans, for a man has his father's wife. And you are arrogant! Ought you not rather to mourn? Let him who has done this be removed from among you. For though absent in body, I am present in spirit; and as if present, I have already pronounced judgment on the one who did such a thing. When you are assembled in the name of the Lord Jesus and my spirit is present, with the power of our Lord Jesus, you are to deliver this man to Satan for the destruction of the flesh, so that his spirit may be saved in the day of the Lord. 1 Corinthians 5:1-5 (ESV)
It doesn't get any more direct than that.
A SECOND CHANCE FOR AMERICA'S PREACHERS
The primary purpose of this article is not to discuss protocol for discipline in the church, though that is a necessary sub-point. The reason I led with that point was to reveal the deep dilemma we are currently in in America. We have gone soft on sin and few are speaking on the crisis. Judgment is not only probable, it's most likely necessary to ensure more people aren't contaminated by compromised, carnal, passive, quasi-Christianity. Judgment is God's method of giving opportunity for those who still have hope to escape the prison they locked themselves into through their disobedience. We need judgment. It's God moving in both love and severity at the same time, for good cause.
Then the word of the LORD came to Jonah the second time, saying, "Arise, go to Nineveh, that great city, and call out against it the message that I tell you." Jonah 3:1-2 (ESV)
This is a message for America. It's time to call out against it. We have no option but to deliver the message that God gives us. We need great, humble and bold men and women of God to reject fear of man, to stop thinking about the impact on their ministry and reputation and call out! It's time for a shaking to come to America, and it needs to be initiated by preachers behind pulpits and in front of cameras from coast to coast. We know that Nineveh famously repented, and God relented.
Who knows? God may turn and relent and turn from his fierce anger, so that we may not perish." When God saw what they did, how they turned from their evil way, God relented of the disaster that he had said he would do to them, and he did not do it. Jonah 3:9-10 (ESV)
We need messengers of God to arise and open their mouths! We must call out against America and cry out for deliverance from destruction.
CALL OUT AND CRY OUT!
I've met many pastors who admittedly have surrendered the fiery and unapologetically confrontational message that God had given them years prior for a more palatable message that ensures people keep showing up on Sundays. As an itinerant prophetic minister, I'm often called in to bring a sharp prophetic message, when in reality the leadership should have been bringing it themselves all along. I understand what bringing in catalytic people can do. That is a God designed strategy, and many amazing pastors do that to help bring some fresh revelation and instruction into their situation. But, much of what I and others do can be accomplished without any outside help whatsoever. Call out and cry out night and day! Gather the people to pray! Repent! Refuse to lead a typical American church! Go deep and burn with passion! Call every person to be branded by the searing heat of the Holy Spirit. It's time! We don't want to live a Jonah 3:1 life. The second time God is required to speak due to our delay and disobedience is one time too many. Let's back up to Jonah 1:1:
Now the word of the LORD came to Jonah the son of Amittai, saying, "Arise, go to Nineveh, that great city, and call out against it, for their evil has come up before me." But Jonah rose to flee to Tarshish from the presence of the LORD. He went down to Joppa and found a ship going to Tarshish. So he paid the fare and went down into it, to go with them to Tarshish, away from the presence of the LORD. Jonah 1:1-3 (ESV)
There we see the original directive. Instead of calling out against Nineveh, Jonah instead went away from the presence of the Lord. Listen closely: Many of today's prophets and preachers are ministering on the run, outside of God's presence, in a spirit of self-centeredness. They are evading the hard messages because of unresolved inner issues in their lives. The thought of offending people, losing them from their ministry, losing financial support, losing favor and their pedestal, have all resulted in preachers without an anointing delivering a message born of their own hearts.Judgment is coming—first to the preachers, and then, very possibly to our nation. Remember, it's God's love that demands this. It would be the least impactful way to awaken the greatest number of people. Judgment is necessary if repentance is absent.
PREACHERS PREACH!
Being open to God's voice in our lives will result in a lifestyle of inconvenience, challenge and impossible mandates. It will cause huge, huge problems in our lives, and it will cause damage and bring calibration to our lifestyle. But, as we understand our roles to bring reformation and calibration to the church and to the world, we'll see that our lives won't collapse. We will function in power as we hear God and release decrees and declarations! As many of today's preachers and prophets are running from God's mandate and asleep outside of his presence, the world is crying out for you to awaken!
So the captain came and said to him, "What do you mean, you sleeper? Arise, call out to your god! Perhaps the god will give a thought to us, that we may not perish." Jonah 1:6 (ESV)
There is no safe place outside of God's call. Jonah's disobedience was putting the lives of those around him at risk. They demanded that he wake up and call out to God! I want to encourage you to do the same. Call out to God and then call out against America. Then, cry out for her as intercessors. A great drama is before us, and we must ensure that drama includes the greatest move of repentance in history; a revival that cannot be measured. Preachers, America is waiting for you to arise from your slumber and release the burning messages of God. Like Jonah, this is the very reason you were born.
Why isn't every Spirit-filled Christian craving to gather to pray in the fire every day?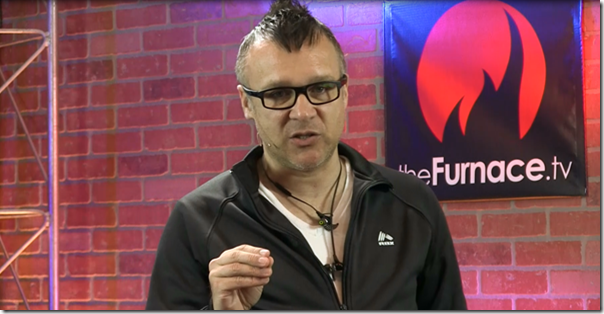 A DESPERATE CALL
This is a raw, unprepared message from my heart about the desperation in my spirit for an awakening in the church.
It's saddens me that so many excuses are immediately raised at the point where the call to prayer is sounded. I'm not seeing the passion for continual, never ending intercession in most circles, and there must be a shaking come to the church.
If we don't have time to gather to pray every day we are probably doing something God doesn't want us to do. It's time to cancel most of what makes up our daily lives and pray with a passion strong enough to launch revival in the land.
This is your hour to awaken and burn with a passion for Jesus that will shock your culture!
The apathy, sleepiness and casual responses to today's urgent alarms must cease immediately.
It's time to wake up, strengthen what remains and is about to die!
A shocking dream will make it clear how critical it is that we gather and contend for revival.
I recently had a dream that shook me to my very core. I'm currently revising my book The Coming Church to include what follows:
The Submarine Dream
My wife and I were in a military grade nuclear submarine following behind a second submarine that contained my Father and Mother-in-law.
I was analyzing the situation, trying to gain understanding on what exactly were were doing while my wife was playfully looking through the periscope. Both submarines were staying at the surface of the water, and they were being used as tour vessels. The atmosphere was playful and carefree.
After a short time everybody was done playing and we decided to park the submarines alongside a long pier. We climbed out and walked down the pier and onto an ocean side boardwalk. There were people everywhere enjoying a beautiful sunny day. The restaurants and shops were full of activity.
We walked onto the sandy beach which was about one hundred yards from the submarines.
As we gazed out over the water, both submarines suddenly began leaving. They headed out toward deeper water.
My in-laws immediately started running into the water giving chase to the submarines. As they did, I was thinking that it was impossible for them to get anywhere near to the fast moving vessels and I didn't understand why they had tried.
Then, my wife ran into the water as well.
What I saw next can't easily be described in a way that is true to the emotion I felt. The water immediately began erupting as if a powerful hurricane was upon us. I was terrorized as I frantically tried to devise a plan to help. What I saw next drained every bit of hope from my being. A whirlpool opened up underneath my in-laws and sucked them under. Then, a second whirlpool took my wife.
I was screaming for help. A few people gathered around but could offer no help whatsoever. I called 911 and all I heard was this recording, "We can't send help for an hour. We can't send help for an hour."
It looped over and over. I knew that THIS was the hour. I couldn't wait! The emergency was upon us.
As I stood on the beach, hopeless, the scene changed.
Only a few days had passed yet it was now bitterly cold and the water had frozen over. There was at least ten feet of snow on top of the ice.
I started moving slowly, though as quickly as I could, through the snow in the direction of where the whirlpools were.
I started digging ferociously and what I saw next will forever be seared in my memory.
It was my wife, frozen. She was gone.
I ran back to the boardwalk and into a restaurant. I saw someone who had tried to help previously behind the counter of a sports bar. He was a volunteer firefighter in addition to working at the restaurant. I yelled, "Help! Help! I found her! I found her! Come quickly!"
He just casually said, "Sorry man, I'm working."
What? I couldn't believe what I heard. I said, "No, you don't understand! I found my wife! I need help!"
He just said, "Sorry." and then looked at a customer and said, "How can I help you?"
I ran back to the snow where my wife was buried. I thought that maybe, just maybe, since she was frozen that there was a chance she could be revived. I've heard of people freezing and their heart beat is slowed to almost nothing before being brought back.
As I was thinking about this I looked down at her, and there was a paper right next to her frozen face.
I picked it up. All it said was, "Wake up and strengthen what remains and is about to die."
Then I woke up.
Interpretation
When I woke up I was shaken to my core.
As I started to pray and analyze the dream, the following is what was highlighted to me:
The submarines: Vehicles represent ministry, and I believe the submarines represented the church. The church is not meant for casual play at the surface of the water. It's a military weapon of war designed to move into the deep as it advances toward enemy targets. When the submarines left on their own, that represented the truth that the church will most certainly advance on its mission with or without us. We can be left behind as we continue our focus on entertainment and leisure if we so choose.
My family: Of course, this was a hard core part of the dream. The first reaction is to do everything I can to ensure those close to me are doing well and burning hot for Jesus. Beyond that, symbolically I feel they represented familiarity and presumption. It's very easy to presume those who are close to us are most certainly doing well in their relationship with Jesus—and then to model our lives after theirs. What happens so often is that we can adopt their pace and their level of passion instead of staying locked in, on alert and advancing in the fire of God. The pressure of maintaining civilities and false-unity can result in a marginalized, lukewarm, casual disposition.

This verse best represents what I am communicating:

…I know your deeds; you have a reputation of being alive, but you are dead. Revelation 3:1

We must be careful not to presume that we are alive and that others are alive simply because of the preceding reputations. There are many people with both a spiritual legacy and a name for being zealous who are doing little more than playing—and it's possible that those people may be some of our closest friends, family, pastors and other personal heroes. Don't measure your life by their grid. We must calibrate to the truth in scripture that will bring light to every issue of our heart.

Then, we can be true awakeners. If we think people who are are asleep are already awake, then we will have no need to step into our roles as end-time prophetic messengers.

911: I was sounding the alarm in a variety of ways including by calling 911. I also ran into the sports bar looking for help. Both rejected the alarm. It's clear that the hour is now for awakening though even those trained as emergency responders won't see it. What was the alarm? Those that have a reputation of being alive are dead! Wake up!
The storm: It was sudden, violent and really out of place. It didn't make sense, but it wasn't obligated to explain itself. If we would have been in the submarines AND in the deep, the storm would not have touched us.

"No one knows about that day or hour, not even the angels in heaven, nor the Son, but only the Father. As it was in the days of Noah, so it will be at the coming of the Son of Man. For in the days before the flood, people were eating and drinking, marrying and giving in marriage, up to the day Noah entered the ark; Matthew 24:36-38
The Call
So, what's the call?
It's simple, and it's directed to the church, to those who are to be in the deep:
Wake up! Strengthen what remains and is about to die, for I have not found your deeds complete in the sight of my God. Revelation 3:2
Yet you have a few people in Sardis who have not soiled their clothes. They will walk with me, dressed in white, for they are worthy. He who overcomes will, like them, be dressed in white. I will never blot out his name from the book of life, but will acknowledge his name before my Father and his angels. He who has an ear, let him hear what the Spirit says to the churches. Revelation 3:4-6
God instructed me to wrestle with Revelation 3:1. I've been burning hot for Jesus for over 20 years, yet, is it possible that my devotion is not as deep as I might think? Yes, it is possible.
God didn't accuse me of being dead. He didn't reveal that my passion was false. He simply wanted me to always consider the possibility that my reputation will always be at risk of being more intense than my reality.
…I know your deeds; you have a reputation of being alive, but you are dead. Revelation 3:1
It's time to go deep, to be awake and alert and then to awaken the sleepers…many who may have a reputation of being very much alive…but are not.
It's time for revival. This is the hour.