The nations will be converging in Detroit because of phenomenal and unusual healings.
FIRST: Spread the word! Catherine Mullins and Brian Simmons will be at Revival Church NEXT SUNDAY, September 25th at 6pm!
---
I shared a prophetic word with a mighty woman of God recently and she instantly came alive as it was a direct confirmation of a word she received. What is that word?
People from the nations of the earth will begin hearing about an extreme level of healings taking place in the midst of a historic outpouring in Detroit. Many of those people will find themselves on an airplane flying to Detroit and will be shocked to find themselves suddenly healed the moment they step foot on the ground at the Detroit airport.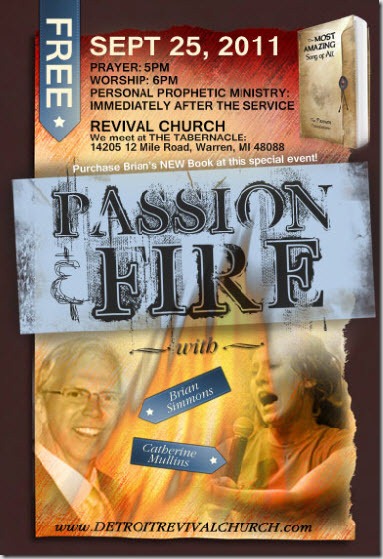 There is a tragic theological misunderstanding running rampant in the church today. It is presumed that we are in a holding pattern of sorts waiting for God to show up and bring revival,work miracles and transform the Detroit region. The thought is if we pray enough, repent enough, work enough, etc. then God will finally be able to move, finally be able to heal.
This mindset can keep the church on the wrong side of the starting line of this great and important journey of revival. We are waiting for the starting gun from heaven to sound as we wait motionless for the beginning of the race. The problem with that? The gun sounded 2000 years ago.
This is extremely good news! Frustration can set in when we find ourselves waiting and waiting and working and wondering when God is going to actually move. But this revelation should propel us into wildly expectant, supernatural and miraculous Kingdom activities. We can and should experience mass healings, deliverances, citywide blessing, revival, exuberant joy and freedom in our lives and in Detroit right now!
When Jesus told us as he was hanging on the cross that it is finished, he knew what he was talking about. It's important that we don't minimize the cross by presuming that we must do something extra in order to qualify for Kingdom blessing.
Sunday evening at Revival Church I'll be teaching on a Culture of Healing.
We aren't waiting around hoping that something happens. The command of Jesus is to heal the sick. We're not waiting for him to do it, he's finished. It's our turn to change the world, and we are responding with a vengeance against disease and sickness.
The greatest enemy to a culture of healing is a culture of confusion regarding God's desire to heal. If we believe God is not willing to heal, that confusion will keep us inactive. I find it interesting that so many believe God doesn't desire to heal, yet Jesus himself commanded us to do it!
Dr. T. J. McCrossan – "When unbelief kept Christ from healing the sick on earth, it will surely do so today."
Mark 16:17-18 (ESV) 17 And these signs will accompany those who believe: in my name they will cast out demons; they will speak in new tongues; 18 they will pick up serpents with their hands; and if they drink any deadly poison, it will not hurt them; they will lay their hands on the sick, and they will recover."
Matthew 10:7 (ESV) 7 And proclaim as you go, saying, 'The kingdom of heaven is at hand.' 8 Heal the sick, raise the dead, cleanse lepers, cast out demons.
We are to preach and heal and cast out demons and raise the dead! We have no option!
For me, if I'm outside of a culture of healing, I'm outside of obedience.
So, come hungry and expectant. Bring your desperate friends and family. Bring them into a culture of healing tomorrow at Revival Church.
And, don't forget, personal prophetic ministry follows EVERY Sunday service at Revival Church! If you need some personal impartation, this is for you!
www.detroitrevivalchurch.com : We meet at THE TABERNACLE: 14205 12 Mile Road, Warren, MI 48088
Healings have landed at theLab! Watch a video of several interns reporting how God set them free!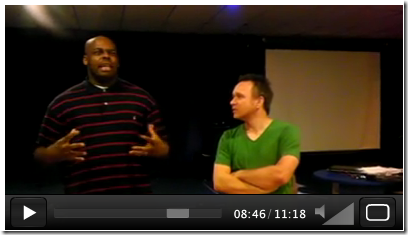 Today at theLab was HEAVY! Wow! Most of us are without words as God arrived suddenly and surprisingly in the middle of our class today.
The NEXT INTERNSHIP SESSION starts September 3rd, and we are offering a special reduced tuition of $499.
Watch some videos from today INCLUDING one featuring several interns and their testimonies of God's healing power! The other two show what happened when God suddenly entered the room.
Check out testimonies from some of our interns:
"The internship has completely changed my life. I have been marked, set free…" Valerie

"I have become unoffendable. No man can shake me. The power of God has touched me and I am free!" Sam

"I've been waiting 36 years to see and experience the awesome power of the fire of God through theLab." Shelly

"My anointing has skyrocketed…" Jamar

"theLab Internship has forever wrecked me." Shannon

"God has brought a shift in every area of my life since starting the internship. It is a can't miss, mind blowing God encounter that will change your life." Joshua

"I am so awakened beyond where I've ever been before spiritually! There is this volcanic eruption of the Holy Spirit exploding all the time. I AM SO ALIVE!" Jill

"God has come after the strongholds in my life with a vengeance. Together we are violently breaking through to destiny." Amy

"I have been delivered from the fear of man." Victoria

"theLab is a place where spiritual combustion happens, and the result is an explosion of fire!" Pam

"Encounter after encounter, realm after realm, breakthrough after breakthrough. Words can't even describe it. My life will never be the same!" Ruth

"I am wrecked by the community at theLab. It's an environment of love and acceptance. I have broken through to a new place of freedom!" Marty

"God really is in the resurrection business! I have gone from coasting until I die to really living again!" Kathy

"Through Revival Church and theLab I've become a walking, jumping, dancing and praising fire carrier!" Joy

"Through theLab I've been exposed to a new way of 'doing church'…I am in awe of the tangible experiences that even the staunchest skeptic cannot deny!" Alvin

"My body shakes and quakes…I come hungry and I get full. I burn in His presence. I want more!" Gail

"I'm so excited about theLab because now I can see what Detroit will become—a city and beacon set on a hill to draw humanity to Jesus. The anointing on theLab for this endeavor is evident." Hedy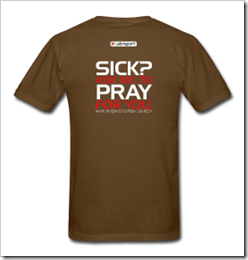 FIRST—Here's the latest design in the new Labreport line of clothing. Be a carrier of healing everywhere you go! Go to www.revivallab.com/products.
HEALINGS!
A surge of life has hit a lot of hungry people over the last six weeks. We are in the beginnings of an unprecedented outpouring in Detroit, and the heavy presence of God has arrived at Revival Church and theLab Internship!
We have had remarkable and surprising healings every week for the past six weeks, and often physical healings are landing on people in their homes, at prayer meetings and other times of the week.
Just last night someone in theLab Internship was ready to go to the hospital for kidney issues. I was surprised to see her arrive to theLab class last night…then I heard she had a fire spread through her body and her kidney was healed instantly!
At Revival Church and theLab we are going after a culture of easy and continual healing—and the nations are about to flood to Detroit in search of the Healer.
DON'T MISS THIS SUNDAY'S TEACHING
Last week I gave the introduction to a powerful series called FOUR FIRES. This Sunday I will be diving into the meat of the teaching, and it is absolutely life-transforming in it's power. I've taught this several times as I've ministered on the road, and every time people are rocked. Faith absolutely EXPLODES after hearing it!
theLab Internship Fall Session
Lastly, I wish I could explain how deeply and completely people are being shocked and delivered in theLab Internship. It's astounding. We are offering a discounted tuition for the next three month session which starts on September 3rd. Head over to www.revivallab.com/internship today and investigate this amazing school of fire. Then, apply and get ready for an unimaginable journey into the furnace of revival!