Operation Houston: It's time to launch a movement of Spirit driven prayer in the face of homosexual bullying
Houston has a problem.
For those of you who read my recent article titled 9 Prophetic Keys for Binding the Homosexual Spirit, you may know where this article is going. It's time for a humble people to boldly advance with tears in their eyes and fire in their mouths. The homosexual agenda is advancing in unprecedented arrogance and the church must respond boldly in the authority it has been given.
With this in mind, I want to warn against any human zeal or pride that would result in combating against the aggressive demands of the city of Houston. The arrogance of those who are placing improper and unrighteous demands on pastors in Houston must not be met with arrogance and unrighteous demands by the church. True humility will result in true boldness and the power of God will be made evident. Keep in mind, this isn't a political human rights or first amendment issue—this is a spiritual issue. If America were not a free nation, how then would we respond? It wouldn't be in the courts of our land. It would be in the courtroom of Heaven.
This doesn't mean human judges won't be involved—they very well may be. It does mean, however, that they can't win alone. The church must pray.
We have great authority as Christians thanks to what Jesus did for us.
…which he exerted in Christ when he raised him from the dead and seated him at his right hand in the heavenly realms, far above all rule and authority, power and dominion, and every title that can be given, not only in the present age but also in the one to come. And God placed all things under his feet and appointed him to be head over everything for the church… Ephesians 1:20-22
This authority grants us the right and the responsibility to govern on the Earth. God's government trumps the government of the city of Houston and as we operate in our authority as a unified church entire cities will shift. We have the keys of the Kingdom and we have the authority to bind and to loose—and God will have our back.
I will give you the keys of the kingdom of heaven; whatever you bind on earth will be bound in heaven, and whatever you loose on earth will be loosed in heaven." Matthew 16:19
The church has historically had a tragically weak response to the homosexual agenda. We haven't stood in our authority.
I believe this is mostly due to the fear of being accused of hatred. After all, our calling card is love and it would seem to make sense to protect that branding. The thought is that we should simply respond to assaults with a smile on our face and a bear hug. Unfortunately, that won't work against principalities and powers. In fact, such a response is not the perfect expression of love. Not even close. It looks more like timidity.
It's rare today to hear people clearly sounding alarms and warning those who are in grave danger. It seems that it's more loving to avoid discussing someone's possible eternal future than to warn them that they are at risk of eternal torment. The gut wrenching truth that causes me to shudder and break in my heart is that the Mayor of Houston is fighting against God and, based on Scriptural truth, is currently destined for Hell. Again, it's love that communicates this horrifying reality, and it's also love to go to battle on behalf of Mayor Annise Parker and her supporters in Houston.
God's passion for them is intense and the enemy's attack against them is continual. The church finds itself in between, warring for their souls.
WHO ARE WE FIGHTING?
First, we must agree that this is a fight. We have to move beyond our simple evangelism strategies and relationship building at the coffee shop. The church of America is at war and our weapons are not man made.
For though we live in the world, we do not wage war as the world does. The weapons we fight with are not the weapons of the world. On the contrary, they have divine power to demolish strongholds. We demolish arguments and every pretension that sets itself up against the knowledge of God, and we take captive every thought to make it obedient to Christ. And we will be ready to punish every act of disobedience, once your obedience is complete. 2 Corinthians 10:3-6
When considering the homosexual advance, it's important that we understand what our battle is. Our fight will look very different depending on the situation. Who are we engaging?
We don't fight people, but we do fight an invisible enemy. That enemy will manifest differently depending on just who it's attacking. Consider these two strategic focuses:
The Homosexual Victim
The Homosexual Agenda
There are millions of people who have been violated by Satan's hordes and the result is extreme confusion regarding their sexual identity. The homosexual victim has been abused and confused and our approach as loving Christians must be tender. Of course, we will fight the enemy on their behalf but the point I want to make here is that a giant smile and a massive bear hug are absolutely appropriate in this particular scenerio. A personal, relational approach is necessary and we should take the time to serve those who feel hopeless and confused.
This article, however, is directed more to the homosexual agenda. Our response to this massive onslaught in our nation will look much different than it does to the homosexual victim. At this level, the war is on.
For the victim we are dealing with emotions, woundings and various demonic attacks. Regarding the agenda it's a completely different story. We are dealing with extremely powerful, influential wicked powers that can't be won with a hug.
The homosexual agenda is driven by a violent, organized and deadly demonic strategy that has little to do with same sex attraction—it's all about taking dominion in America and it's manifesting clearly in Houston.
This evil assault must be met with one key spiritual strategy—praying in tongues. Fervent, unified, passionate and continual prayer in the Spirit. This is a call to the church to always be in the Spirit and to pray without ceasing.
If we live in the Spirit, let us also walk in the Spirit. Galatians 5:25
Again, read my prior article for a more comprehensive explanation of this revelation. The present danger our nation is experiencing cannot be allowed to advance.
It's time to bring confusion to the camp. The violent, intolerant homosexual agenda will be stalled via a massive movement of people who are praying in the Spirit. The groans of intercession need to be heard in our nation again!
Finally, my brethren, be strong in the Lord and in the power of His might. Put on the whole armor of God, that you may be able to stand against the wiles of the devil. For we do not wrestle against flesh and blood, but against principalities, against powers, against the rulers of the darkness of this age, against spiritual hosts of wickedness in the heavenly places. Therefore take up the whole armor of God, that you may be able to withstand in the evil day, and having done all, to stand. Stand therefore, having girded your waist with truth, having put on the breastplate of righteousness, and having shod your feet with the preparation of the gospel of peace; above all, taking the shield of faith with which you will be able to quench all the fiery darts of the wicked one. And take the helmet of salvation, and the sword of the Spirit, which is the word of God;  praying always with all prayer and supplication in the Spirit, being watchful to this end with all perseverance and supplication for all the saints– and for me, that utterance may be given to me, that I may open my mouth boldly to make known the mystery of the gospel, for which I am an ambassador in chains; that in it I may speak boldly, as I ought to speak. Ephesians 6:10-20
Praying in the Spirit is one of our weapons of warfare! It results in precise intercession being lifted up and a sword of the Spirit exploding out of our mouths! Just imagine the demons that are scattering as we pray!
I see stadiums filled with thousands of people who spend all day and night groaning and roaring in the Spirit along with myriads of angels waging war in the heavenlies over Houston!
Just as those in the homosexual movement have a common language, and just as those at the Tower of Babel had one language, the church's response must be the common language that God gave us in Acts 2.
Now the whole earth had one language and the same words. —Gen. 11:1
Then there appeared to them divided tongues, as of fire, and one sat upon each of them. And they were all filled with the Holy Spirit and began to speak with other tongues, as the Spirit gave them utterance. Acts 2:3-4
Just as confusion came to those at Babel, another unified language resulted in confusion in Jerusalem:
And when this sound occurred, the multitude came together, and were confused, because everyone heard them speak in his own language. Then they were all amazed and marveled… Acts 2:6-7
The difference? At Babel the confusion stopped the unified work of Satan. In Acts the prayer-fueled unity initiated outpouring caused people to marvel!
It's time for Satan's agenda in Houston to be confused and for the people of Houston to marvel!
ALL THINGS WORK TOGETHER FOR GOOD?
We all know the verse:
And we know that all things work together for good to those who love God, to those who are the called according to His purpose. Romans 8:28
This is one of the most misused verses in all of Scripture.
When somebody has a bad day—their girlfriend breaks up with them or they can't pay their bills or they break their leg—it's common to quote this famous verse. The problem? It's terrible counsel and it doesn't work. That single verse cannot stand alone. Context is necessary.
You may have noticed that the verse started with the word AND. That should tip us off to something that comes prior. There's a condition that must be met for verse 28 to activate. Those conditions are found in verses 26 and 27:
Likewise the Spirit also helps in our weaknesses. For we do not know what we should pray for as we ought, but the Spirit Himself makes intercession for us with groanings which cannot be uttered. Now He who searches the hearts knows what the mind of the Spirit is, because He makes intercession for the saints according to the will of God. Romans 8:26-27
It's when we allow the Holy Spirit to intercede through us with groans that things start to come together.
America needs a groaning movement of deep intercession! The Holy Spirit knows what the mind of the Spirit is, and he prays through people who physically groan and travail. This prayer is perfect prayer as it's according to the will of God. We don't need human strategy when we pray in the Spirit!
When the groans are burning in and through us we find ourselves loving God more deeply and trusting him more fully. We agree with his calling on our lives. Then all things work together for good!
As the church of Houston and of our nation gathers together in unity to allow the Holy Spirit to pray through us, we will begin to see all things working together for good! The love of God will explode! The homosexual agenda will lose its power and the plan of our glorious Savior will advance in power! Let's fill churches, streets, homes and stadiums with groaning intercessors! Can you imagine what tens of thousands of people groaning deeply in the Spirit would sound like? The stadium roof would explode!
UNITY
Unity always surrounds a cause, or a point of focus. The homosexual agenda is possibly the most unified movement in the world today. They are gathered around a singular focus.
Consider the three Hebrews who unified against King Nebuchadnezzar. The king called everybody to rally around an image. His strategy for national strength was brilliant—unity.
So at that time, when all the people heard the sound of the horn, flute, harp, and lyre, in symphony with all kinds of music, all the people, nations, and languages fell down and worshiped the gold image which King Nebuchadnezzar had set up. Daniel 3:7
Shadrach, Meshach and Abednego chose a different point of unity—the fire.
Now if you are ready at the time you hear the sound of the horn, flute, harp, lyre, and psaltery, in symphony with all kinds of music, and you fall down and worship the image which I have made, good! But if you do not worship, you shall be cast immediately into the midst of a burning fiery furnace. And who is the god who will deliver you from my hands?" Daniel 3:15
God was the only one who could deliver them, and God was the only one who could change the nation. So, in the face of certain death, they stood together in unity.
Shadrach, Meshach, and Abed-Nego answered and said to the king, "O Nebuchadnezzar, we have no need to answer you in this matter. If that is the case, our God whom we serve is able to deliver us from the burning fiery furnace, and He will deliver us from your hand, O king. But if not, let it be known to you, O king, that we do not serve your gods, nor will we worship the gold image which you have set up." Daniel 3:16-18
This is where the church is right now. What will we rally around? If we attempt to blend in and let the situation play out, we, by default, worship the image—the image that the homosexual agenda is gathering everyone in the city around.
When we make our stand, we will absolutely appear to be divisive, hateful and arrogant, and that will result in rage in the camp.
Then Nebuchadnezzar was full of fury, and the expression on his face changed toward Shadrach, Meshach, and Abed-Nego. He spoke and commanded that they heat the furnace seven times more than it was usually heated. And he commanded certain mighty men of valor who were in his army to bind Shadrach, Meshach, and Abed-Nego, and cast them into the burning fiery furnace. Daniel 3:19-20
It's at this point, well into the battle, where Jesus will be made known to all:
Then King Nebuchadnezzar was astonished; and he rose in haste and spoke, saying to his counselors, "Did we not cast three men bound into the midst of the fire?" They answered and said to the king, "True, O king." "Look!" he answered, "I see four men loose, walking in the midst of the fire; and they are not hurt, and the form of the fourth is like the Son of God." Daniel 3:24-25
Their radical unity in the fire resulted in a manifestation of Jesus that was undeniable. The nation turned at that moment. Our nation, the city of Houston and Mayor Annise Parker can all be transformed over night.
Nebuchadnezzar spoke, saying, "Blessed be the God of Shadrach, Meshach, and Abed-Nego, who sent His Angel and delivered His servants who trusted in Him, and they have frustrated the king's word, and yielded their bodies, that they should not serve nor worship any god except their own God! Therefore I make a decree that any people, nation, or language which speaks anything amiss against the God of Shadrach, Meshach, and Abed-Nego shall be cut in pieces, and their houses shall be made an ash heap; because there is no other God who can deliver like this." Then the king promoted Shadrach, Meshach, and Abed-Nego in the province of Babylon. Daniel 3:28-30
Operation Houston will result in a unified church in the midst of the fire, wielding their weapons, praying in the Spirit and impacting not only Houston but the nation and the entire world. The love of God will be made manifest and millions of people will have an unprecedented opportunity to experience it. Church, this is our hour.
Does anybody in Houston have a stadium we can borrow for a day?
It's time to pray.
Operation Babel: A prophetic strategy to break the power of the homosexual spirit
God opened up a powerful strategy to disrupt the momentum of the homosexual agenda to me—and a successful campaign will result in innumerable people set free.
Love the sinner, hate the sin.
Is this really the limit of our wisdom?
I'm sure the LGBT community is sick, bored and tired of that defense—and I am too.
It offers no strategic plan of action and it reveals that we have exhausted our arguments. After loving the sinner and hating the sin, where does that leave us? What do we do?
That statement, love the sinner and hate the sin, really needs to be retired.
In fact, it was made famous by someone who wasn't even a Believer in Jesus—Gandhi.
As I was considering this in prayer, God suddenly and powerfully revealed a clear, easy to understand strategy that will, without question, stop the fast moving gay agenda in its tracks.
The church just has to make it happen. Spoiler alert: We have to pray, in unity, with one language, in the Holy Spirit.
The gay agenda is driven by a spirit. We must keep this in mind. Of course, we don't wrestle with people. We wrestle with unholy spirits. But, it's true that many people are in alliance with those very spirits that we are battling, so it's unfortunately common for there to be collateral damage. Don't mistake that collateral damage with fighting against flesh and blood. When we deal with evil spirits, those who renounce them will be set free while those who embrace them will experience their judgment.
For we do not wrestle against flesh and blood, but against the rulers, against the authorities, against the cosmic powers over this present darkness, against the spiritual forces of evil in the heavenly places. Ephesians 6:12
Pray that the Holy Spirit draws many to renounce the spirits that are holding them captive as this massive strategy that I'm calling Operation Babel unfolds.
Maybe we need to advance our plan from "love the sinner, hate the sin" to "fight the spirit, free the person."
Operation Babel
ONE.
 Now the whole earth had one language and the same words. Genesis 11:1
Unity. If Christians grasped the power of true unity, around a common holy purpose, we'd see unstoppable advance. The Kingdom of God would move in the power and at the speed of lightning.
All the believers were one in heart and mind. Acts 4:32

…so that with one heart and mouth you may glorify the God and Father of our Lord Jesus Christ. Romans 15:6
Unfortunately, the church is lacking in unity (and I'm not talking about ecumenical affinity). We must immediately unify around the upper room of fervent prayer.
And as he taught them, he said, "Is it not written: "'My house will be called a house of prayer for all nations""… Mark 11:17
Today's homosexual movement is possibly the most unified on the Earth. They have one language and one purpose. Everybody is in agreement and they are infiltrating with the intention of leading every segment of society.
They have one purpose and will give their power and authority to the beast. Revelation 17:13
Unholy unity was a key strategy in history, it's a key strategy today and it will be a key strategy at the end of the age as people will come into alignment with the beast.
Today's unity in the homosexual movement is what we must address now.
TWO.
And as people migrated from the east, they found a plain in the land of Shinar and settled there. And they said to one another, "Come, let us make bricks, and burn them thoroughly." And they had brick for stone, and bitumen for mortar. Genesis 11:2-3
Bricks are representative of human efforts to build their own kingdoms. Remember Egypt? The Hebrews were required to make bricks so Pharaoh could continue to build his empire.
That same day Pharaoh gave this order to the slave drivers and foremen in charge of the people: "You are no longer to supply the people with straw for making bricks; let them go and gather their own straw. Exodus 5:6-7
Today there is a mass movement of brick making.
Individual bricks, when put together, will result in a mighty city and a mighty tower.
The bricks of legislation and gay friendly government policies are being made a record pace. Bricks carefully made by human hands can be seen in a variety of places such as gay pride parades, gay friendly curriculum in schools, the advance of gay marriage from state to state, entertainment and media, marketing campaigns and through the influence of major brands. Each brick is resulting in greater affirmation of this unholy movement.
Additionally, as with Pharaoh and the Hebrews, there is intense pressure today on Christians to actually make the bricks!
Pharaoh forced God's people to make bricks for him, and today's homosexual movement is attempting to force God's people today to do the same thing. Christian bakers are being forced to make wedding cakes for gay weddings. The threat of forcing Christian pastors to marry homosexuals is just over the horizon. This evil spirit is bent on commanding Christians to agree with and actually promote his plan of destruction!
Just as the bricks were baked thoroughly at Babel, there is a thorough, well thought out process of brick making in play now that will, if we don't step up, result in an evil city and tower being built.
THREE.
Then they said, "Come, let us build ourselves a city and a tower with its top in the heavens… Genesis 11:4a
The goal then was to take dominion, and that's the goal now.
The city represents the plan to spread horizontally around the world—to see homosexuality become not only accepted, but the primary leader of humanity. This spirit doesn't simply want to be affirmed—it wants to dominate.
The tower represents a connection with Heaven. The "gay Christian" movement is moving at the speed of light—and even the most biblically sound arguments against it are not convincing those who are seduced by this spirit. The unity is too strong and the response of the church has been too weak.
This simultaneous horizontal and vertical advance of the homosexual movement is brilliant, though not original. We saw it at Babel, and we'll see it again at the end of the age. The Antichrist's strategy includes horizontal world domination and a vertical one world religion. At the end of that strategy, after a great battle, God wins. God is primed to win this battle today as well—but the church must fight from a place of humility, love and prayer.
But the beast was captured, and with him the false prophet who had performed the miraculous signs on his behalf. With these signs he had deluded those who had received the mark of the beast and worshiped his image. The two of them were thrown alive into the fiery lake of burning sulfur. Revelation 19:20
FOUR.
…and let us make a name for ourselves, lest we be dispersed over the face of the whole earth." Genesis 11:4b
Pride. The flood of Noah was a much nearer reality to them than it is to us today, and they weren't about to let their destruction happen again. They were determined to grow in strength through radical unity and to defy God through pride. They wanted to make a name for themselves. This is a Luciferian spirit that, in pride, seeks to rise to the heavens.
"How you are fallen from heaven, O Day Star, son of Dawn! How you are cut down to the ground, you who laid the nations low! You said in your heart, 'I will ascend to heaven; above the stars of God I will set my throne on high; I will sit on the mount of assembly in the far reaches of the north; I will ascend above the heights of the clouds; I will make myself like the Most High.' Isaiah 14:12-14
Identity. We can see how successful the enemy has been just by how many are absolutely convinced their homosexuality is core to their identity. The argument is that they were born that way. It's the defining mark of who they are as a person, and they are proud of that.
I've argued before that I don't believe the primary driver of homosexuality is lust—it's identity. When personal desires and experiences are grafted in at the level of identity, the enemy has won a primary battle. When he has won that battle with many people, a movement around that very personal and overpowering identity results. That nearly unstoppable unified advance is what we are dealing with today.
FIVE.
 And the LORD came down to see the city and the tower, which the children of man had built. Genesis 11:5
God is not absent. He is watching and he is ready to move. His desire, which is so much stronger than ours, is for freedom. For life. He wants the movement stopped and he wants its influence marginalized.
SIX.
 And the LORD said, "Behold, they are one people, and they have all one language, and this is only the beginning of what they will do… Genesis 11:6a
Again, their unity and their common language is all it took to advance in strength. Spoiler alert: Are you noticing an Acts 2 strategy?
This very simple strategy of unity and common language is also driving today's homosexual agenda. They are agreed in identity and are saying the same things. Their resulting pride gives them great strength.
However, be warned, this is only the beginning. God revealed this about those building the city and the tower. It was only the beginning of what they would do! Basically, God was saying they would be unstoppable.
There is a great threat today as well. The demonic spirit behind the homosexual camp has much more planned than promoting equal rights. He is intently focused on destruction.
SEVEN.
…And nothing that they propose to do will now be impossible for them. Genesis 11:6b
Their options were limitless. Their unity resulted in strength and capability beyond anything that had ever existed among men.
The Strategy
EIGHT.
Come, let us go down and there confuse their language, so that they may not understand one another's speech." Genesis 11:7
Confusion in the camp. That's the plan.
The inability to communicate and the existence of confusion will stop the most advanced, aggressive and powerful movements.
NINE.
So the LORD dispersed them from there over the face of all the earth, and they left off building the city. Therefore its name was called Babel, because there the LORD confused the language of all the earth. And from there the LORD dispersed them over the face of all the earth. Genesis 11:8-9
In a moment, the movement ceased.
Did you notice a similarity between the enemy's strategy of unity and common language to a well known strategy of God?
And when the day of Pentecost was fully come, they were all with one accord in one place. Acts 2:1
They were unified and together—and confusion was eliminated as the language barrier (that God created in Genesis 11) was overcome!
And they were all filled with the Holy Ghost, and began to speak with other tongues, as the Spirit gave them utterance. And there were dwelling at Jerusalem Jews, devout men, out of every nation under heaven. Now when this was noised abroad, the multitude came together, and were confounded, because that every man heard them speak in his own language. Acts 2:4-6
A Prayer Movement
Simply stated, we must have a movement of Holy Ghost infused intercession. A mass advance of people praying in tongues is non-negotiable if we hope to move ahead in great unity. As we do this, we will stand in powerful agreement and pray for confusion to come to the enemy's camp—so the millions of slaves held there can drop their bricks and be free.
The stories of Babel and the Exodus have key parallels.
The confusion at Babel and the plagues at Egypt got the job done.
Some will radically reject God at that time and be dispersed while others will fall in love with Jesus and move out of slavery and into the glorious encounter.
Pray for God to continue to raise up mighty men and women of God in the spirit of Moses to deliver people from horrific bondage.
Pray for God himself to come down and bring confusion to the homosexual movement.
Pray for the church, in a spirit of passionate love, to gather together in fervent, Holy Spirit driven intercession.
It truly is a prayer movement that will see this unholy tower dismantled.
The reality that MOST people in the world and MANY in the church will be tormented forever in Hell grips me night and day.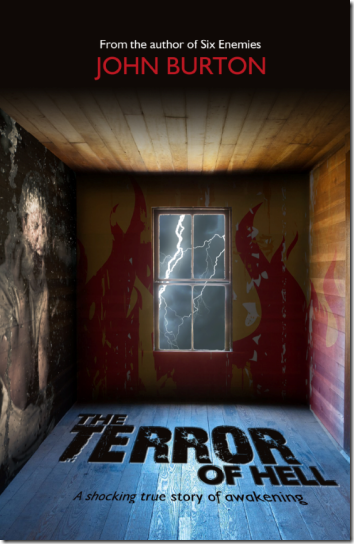 Yesterday I wrote an article titled "Shock Christianity." I strongly exhort you to read it as this is a follow up message. You can read it HERE.
You can also listen to a provocative podcast on the same topic of Shock Christianity and what love really looks like on that page.
We have been duped.
So many in the church have been deceived into believing in a costless, easy salvation—and it is so penetrated our culture that any argument against it is aggressively rejected.
The false grace message, as I have shared many times, is lulling people into a spiritual coma, and that is the best part of the news. The worst? Many of them will move from coma to trauma as they enter eternity into the terror of Hell.
Just as I shared yesterday, I am beyond concerned and troubled regarding the state of the church.
When I walk into even the most vibrant, Spirit-filled church, the grid I see is that of many people who are intimate with Jesus, and potentially many who are following Jesus in an unsaved condition.
In fact, in a life-giving church of 1000 people, it wouldn't surprise me if 100 of them are truly saved.
False Love
As I wrote in yesterday's message, there is a false love movement that is exceedingly popular in the world today. The focus is on self—our experience, our emotions, our feelings. The goal is affirmation and emotional intimacy that masquerades as true love.
The result? People avoid dealing with the tough issues in the hopes of encouraging and affirming people. Many people in the church who are on their way to Hell are affirmed in their journey—by other Christians! No alarms are sounded. No warnings shared. No grief and tears. Just a smile and a hug for their friend who is in a treacherous, lukewarm condition.
Consider the shocking statements by the Pope this past week:
"The Lord has redeemed all of us, all of us, with the Blood of Christ: all of us, not just Catholics. Everyone," the pope told worshipers at morning Mass on Wednesday. "'Father, the atheists?' Even the atheists. Everyone!"

Francis continued, "We must meet one another doing good. 'But I don't believe, Father, I am an atheist!' But do good: we will meet one another there."

Roy Speckhardt, executive director of the American Humanist Association, said that although he has been skeptical of Francis' outreach to the nonreligious, he welcomed Wednesday's comments.

"I gather from this statement that his view of the world's religious and philosophical diversity is expanding," Speckhardt said. "While humanists have been saying for years that one can be good without a god, hearing this from the leader of the Catholic Church is quite heartening."
Regardless of whether his true intent was lost in translation or not, the message he sent is being received by many that they can simply do good and that they are safe. My God.
Hell isn't for bad people. It's for those who reject intimacy with Jesus. It's for those who reject his Lordship.
This passive approach of false love extends well beyond the landscape of the church. We have overestimated the power of being nice and passive with those in the homosexual movement, for example. How is this working for us? Many churches functioning in a spirit of false love and overreaching sympathy are now affirming people in the lifestyle that is killing them!
Churches "very rarely talk about sin and refuse ever to say that homosexual behavior is a sin." Only a minority of people in the churches in Britain, "speak out the word of God. And they get a lot of aggression for it," she said.

"The church is doing a disservice to homosexuals by denying sinners their liberty in the lord Jesus Christ. They are blind guides leading others into a ditch of destruction." ~Lesley Pilkington
So, what is true love for the homosexual community? Warn them! Awaken them! It's not about being moral or talking about how it affects them here on Earth as much as it is about their eternity.
We have to have the guts to tell them that Hell is their future and we desperately don't want them to go there! Staying silent is not love.
Jesus made mention of Hell and a coming judgment dozens of times in the Gospels. Jesus had more to say about Hell than He did about Heaven!

And Jesus made it absolutely clear that people who refuse to repent, who turn away God's provision of forgiveness and salvation, will spend eternity separated from God in a place of conscious torment that He often called "Hell" (Matthew 5:29).

Now in spite of the Bible's clarity on this issue, Satan has deceived millions of people into believing a variety of other "softer" options. Satan, "the father of lies" (John 8:44), never ceases to take advantage of those who are willing to lay aside Biblical revelation for something that is more palatable. ~Charlie Campbell
Where are they now?
Rest in peace. That phrase is spoken at most every funeral in the world, yet it's only truly applicable in a small percentage of those who enter eternity. Most don't rest, and most have no peace.
I have heard many say that it's not loving to mention the reality of Hell to people. When evangelizing, many completely leave out the truth about eternity without Jesus. Hell isn't mentioned. The cross isn't mentioned. Repentance isn't mentioned. And, as a result, people are lured into a false religious experience that gives them false hope. Some say that we only need to reveal the love of Jesus, and it's actually detrimental to mention negative things such as sin and Hell. If that's the case, Jesus himself failed. He mentioned Hell often.
Let me make it clear: It is deep love that warns people about eternity separated from Jesus!
Some say it's a fear tactic to mention Hell. That is absolute insanity. With the Rich Man and Lazarus, Jesus didn't say that it was unloving to mention Hell. He said that it's a part of the presentation of the prophets, yet it is ignored! Jesus said that people needed to hear about Hell and be convinced about it!
19 "There was a rich man who was clothed in purple and fine linen and who feasted sumptuously every day. 20 And at his gate was laid a poor man named Lazarus, covered with sores, 21 who desired to be fed with what fell from the rich man's table. Moreover, even the dogs came and licked his sores. 22 The poor man died and was carried by the angels to Abraham's side. The rich man also died and was buried, 23 and in Hades, being in torment, he lifted up his eyes and saw Abraham far off and Lazarus at his side. 24 And he called out, 'Father Abraham, have mercy on me, and send Lazarus to dip the end of his finger in water and cool my tongue, for I am in anguish in this flame.' 25 But Abraham said, 'Child, remember that you in your lifetime received your good things, and Lazarus in like manner bad things; but now he is comforted here, and you are in anguish. 26 And besides all this, between us and you a great chasm has been fixed, in order that those who would pass from here to you may not be able, and none may cross from there to us.' 27 And he said, 'Then I beg you, father, to send him to my father's house— 28 for I have five brothers —so that he may warn them, lest they also come into this place of torment.' 29 But Abraham said, 'They have Moses and the Prophets; let them hear them.' 30 And he said, 'No, father Abraham, but if someone goes to them from the dead, they will repent.' 31 He said to him, 'If they do not hear Moses and the Prophets, neither will they be convinced if someone should rise from the dead.'" [Luke 16:19-31 ESV]
So, just where are people who have died right now? Just who is resting in peace?
Some suggest that just one in one thousand avoid the torment of Hell. This would be a narrow road indeed.
Where are Michael Jackson, Whitney Houston, Andy Griffith, Steve Jobs and other stars who have died recently? Really think about it. Of course, we can't arrive at a definitive answer, BUT we must consider the question.
If we default to believing Whitney Houston, for example, went to Heaven, that belief will impact the way we live our own lives. Of course, my sincere hope is that she is there…that goes without saying. But, lets think about this very difficult question.
Another way to ask the question is, is it truly rare for even professing Christians to make Heaven? Is it possible that a small percentage of church goers will truly make it?
Now, compare the two perspectives.
The point? Hell is real. Hell is expanding. Most go there. They are not resting in peace. Affirming people in unsaved, lukewarm conditions is aiding them in their journey to Hell. That is not love. Not even close.
This is the issue that grips me every day of my life. My primary message is for the church. I can't get too excited about teaching on anything other than awakening if that teaching will only help people in the few years leading up to their plunge into Hell. The spirit of awakening is upon me!
The Good News
I don't believe you can preach the Good News without it being in the context of the bad news.
Approximately 100 people die every minute. This means, possibly NONE of them are in Heaven right now. Possibly all 100 are in Hell. Or, maybe one or two made it.
In the time it has taken you to read this article so far, approximately 500-1000 people have died. It's possible that 950 or 975 or 990 of them, for example, are in Hell right now.
Many of them are absolutely shocked to be there. This very second, as you are reading this, somewhere in the belly of the Earth, they are freaking out. They thought they were saved, but were not. Nobody sounded an alarm in their life. The Gospel was possibly dumbed down and diluted—and that is what they bought into.
Getting saved is simple but not easy. Free but not without great cost. Few are interested in salvation like that.
17 And as he was setting out on his journey, a man ran up and knelt before him and asked him, "Good Teacher, what must I do to inherit eternal life?" 18  And Jesus said to him, "Why do you call me good? No one is good except God alone. 19 You know the commandments: 'Do not murder, Do not commit adultery, Do not steal, Do not bear false witness, Do not defraud, Honor your father and mother.'" 20  And he said to him, "Teacher, all these I have kept from my youth." 21  And Jesus, looking at him, loved him, and said to him, "You lack one thing: go, sell all that you have and give to the poor, and you will have treasure in heaven; and come, follow me." 22 Disheartened by the saying, he went away sorrowful, for he had great possessions. 23  And Jesus looked around and said to his disciples, "How difficult it will be for those who have wealth to enter the kingdom of God!" 24  And the disciples were amazed at his words. But Jesus said to them again, "Children, how difficult it is to enter the kingdom of God! 25 It is easier for a camel to go through the eye of a needle than for a rich person to enter the kingdom of God." 26  And they were exceedingly astonished, and said to him, "Then who can be saved?" 27  Jesus looked at them and said, "With man it is impossible, but not with God. For all things are possible with God." 28  Peter began to say to him, "See, we have left everything and followed you." 29  Jesus said,"Truly, I say to you, there is no one who has left house or brothers or sisters or mother or father or children or lands, for my sake and for the gospel, 30 who will not receive a hundredfold now in this time, houses and brothers and sisters and mothers and children and lands, with persecutions, and in the age to come eternal life. 31 But many who are first will be last, and the last first." [Mark 10:17-31 ESV]
Who then can be saved? The disciples wrestled with the issue of salvation, and so must we! We must work it out with fear and trembling. We must endure to the end. Few do that, and a prayer decades prior with some cleaned up living and church attendance is not what saves.
Without intimacy with Jesus and a willingness to surrender all, Hell is the future.
So, the Good News is truly good news when seen on the backdrop of eternal darkness.
The love of Jesus is clear when presented in contrast to such hatred.
It's time friends to shout from the rooftops this message. The fear of the Lord must grip us and the hunger for intimacy with Jesus must overwhelm us!
It's those who aren't intimate with Jesus who will be cast into Hell. People who he didn't know.
21  "Not everyone who says to Me, 'Lord, Lord!' will enter the kingdom of heaven, but only the one who does the will of My Father in heaven. 22 On that day many will say to Me, 'Lord, Lord, didn't we prophesy in Your name, drive out demons in Your name, and do many miracles in Your name?' 23  Then I will announce to them, 'I never knew you! Depart from Me, you lawbreakers! ' [Matthew 7:2 HCSB]
Do you know anybody who's not intimate with Jesus? Warn them. Call them higher. Pray for them. Do not presume that they are safe. They absolutely are not.