Watch: It's time to stop affirming those who have a marginalized commitment to God and rescue them from a lukewarm life.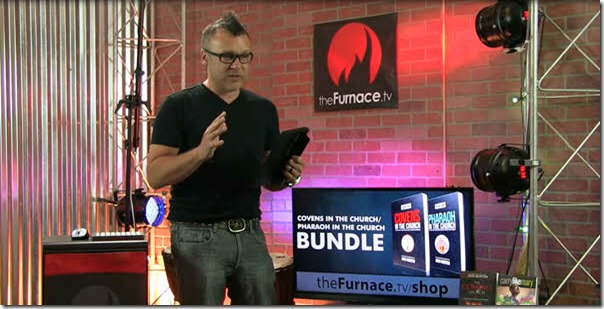 GOOD CHRISTIAN PEOPLE
Possibly the most unbelievable (but common) reaction to the urgent (but rare) call for Christians to burn with great passion for Jesus is the accusation of legalism. To be actively involved with zeal and to call others into a deeper devotion to Jesus and the mission of Kingdom advance smells of unrighteous works to many. I can barely believe I just wrote that.
Further, I've heard it said that such a determined devotion reveals a lack of revelation of the finished work of the cross. The thought is that we can now rest easy due to the work of Jesus and, in fact, any energy expended on our part in response to the cross is an offense to the cross. This, friend, is sickening and theologically ridiculous, yet that teaching is gaining ground in many Spirit-filled circles.
Not only should the cross of Jesus evoke the fire of passion from deep within every one of us, we should also understand the radical, costly participation that we must embrace:
Matthew 10:38-39 (ESV) 38 And whoever does not take his cross and follow me is not worthy of me. 39 Whoever finds his life will lose it, and whoever loses his life for my sake will find it.
The cross is the very picture of passion, and any response less than all consuming zeal is an indicator of a lack of understanding, certainly not of greater revelation. A revelation of our beautiful Savior being savagely tortured and brutally murdered due to our own detestable wickedness should drive us to our knees in a never ending lifestyle of thanksgiving, worship and intercession. Our desire to go deeper and to get closer to Jesus should wreck us every single moment of every single day.
Yet, even within the context of the church there are masses of people who resist such a focus. I'm shocked and disturbed to say that I heard of a locally popular pastor who actually confessed that he no longer preaches the cross. I suppose it's old news and time to move on to more positive things. I'm grieved.
It's time. Judgment is coming. Crisis is continual in our nation. It's time to take action and launch revival.
Sunday night at Revival Church Julia Palermo shared for about ten minutes on the call to revival, and I followed with a sharp and challenging message of extreme action.
Listen here: http://media.johnburton.net/4929319
We started the service by watching a heavily anointed video from the Brownsville Revival. You can see it here… it's one of my all time favorites: http://youtu.be/4aix9SlcLrE
This is the next teaching in the series Ten Threats to Revival.
Here's my personal notes so you can follow along!
1. As long as we are content to live without revival, we will! Leonard Ravenhill
1. If we refuse to live without revival, we will shock everybody we know with our zeal and fervent, strategic work.
2. We must break the go to work on Monday, go to church on Sunday pattern. It's not enough!
2. Let me start by saying this: If Noah had not picked up a saw and a hammer and labored for upwards of 100 years, we would not be here.
1. Genesis 6:13-14 (ESV) 13 And God said to Noah, "I have determined to make an end of all flesh, for the earth is filled with violence through them. Behold, I will destroy them with the earth. 14 Make yourself an ark of gopher wood. Make rooms in the ark, and cover it inside and out with pitch.
2. Genesis 6:22 (ESV) 22 Noah did this; he did all that God commanded him.
1. Jesus is coming soon!
2. Matthew 24:36-44 (ESV) 36 "But concerning that day and hour no one knows, not even the angels of heaven, nor the Son, but the Father only. 37 For as were the days of Noah, so will be the coming of the Son of Man. 38 For as in those days before the flood they were eating and drinking, marrying and giving in marriage, until the day when Noah entered the ark,
39 and they were unaware until the flood came and swept them all away, so will be the coming of the Son of Man. 40 Then two men will be in the field; one will be taken and one left. 41 Two women will be grinding at the mill; one will be taken and one left. 42 Therefore, stay awake, for you do not know on what day your Lord is coming. 43 But know this, that if the master of the house had known in what part of the night the thief was coming, he would have stayed awake and would not have let his house be broken into. 44 Therefore you also must be ready, for the Son of Man is coming at an hour you do not expect.
3. It's time to get to work!!!! Crisis is coming! Jesus is coming!
3. First, we have to understand what the goal is.
1. The goal is not to live a better life.
2. The goal is not to have increased happiness.
3. The goal is not to convince God to love us.
4. The goal is not to convince ourselves that God does love us.
1. Do we not know this? The Bible is clear!
2. Romans 5:8 but God shows his love for us in that while we were still sinners, Christ died for us.
1. We have to simply know that and get to work!
2. Don't let your feelings drive you!
1. If you don't feel loved, you feelings are lying to you!
2. Take your emotions captive! Demand they respond to truth!
5. So, what is our goal? Full blown Revival!
1. Just look at what's happening in the world! Earthquakes, a freak storm… the world is growing darker… the witchcraft highest holy day this year is the same day as the presidential election. Our goal is revival! We must work!
6. None of us in the room has the goal to simply attend church, worship and grow personally.
1. It is unto something! There is MUCH more! Loads more! The hours of our day are to be stuffed full of revival focused activities.
1. I mean, read revival books, study the Word, pray with fire, write revival articles, stir yourself up, get the word out, gather people together, lead the charge!!! You!!!! Plant a Revival Tribe!!!!!! Go!!!! Jesus is coming again and time is running out!
2. This is why it's shocking to me when the church of Detroit says they are hungry for revival, but they don't respond to the corporate gatherings, to the prophetic calls to pray.
1. What kind of work am I talking about?
1. Be in the church every time the doors are open.
2. Be at prayer at 5pm.
3. Refuse to ever be casual, refuse to lose your fiery edge!!!
4. Go to the critical regional revival events.
5. Give financially, fund churches, finance the prayer movement.
6. Be at every corporate prayer event. (The Awakening Conference, Nathan Morris, etc.)
7. Step aggressively into your calling, into your ministry.
8. Pray like a freak moment by moment! Have dreams and visions! Pray in the Spirit!
9. Live by faith… I mean, crazy wild faith.
3. Colossians 3:23-24 (ESV) 23 Whatever you do, work heartily, as for the Lord and not for men, 24 knowing that from the Lord you will receive the inheritance as your reward. You are serving the Lord Christ.
4. Philippians 4:13 I can do all things through Christ, which strengthens me.
5. Philippians 3:14 I press on toward the goal to win the prize for which God has called me heavenward in Christ Jesus.
6. Colossians 1:28-29 (NIV) 28 We proclaim him, admonishing and teaching everyone with all wisdom, so that we may present everyone perfect in Christ.
29 To this end I labor, struggling with all his energy, which so powerfully works in me.
4. A revival is nothing else than a new beginning of obedience to God.~ Charles Finney, Lectuires on Revivals of Religion
1. Revival requires obedience.
2. "Today's church wants to be raptured from responsibility." Leonard Ravenhill
5. Fate:
1. Something that unavoidably befalls a person; fortune; lot
6. Destiny:
1. A predetermined course of events considered as something beyond human power or control
2. An event (or a course of events) that will inevitably happen in the future
7. Many people tend to believe that they have little effect on whether revival breaks out or not.
1. They may say things like, "Nothing will stop God if he wants to pour out in a region," or "If God wants to bring revival, he will."
1. Wrong!!
2. The chance for revival if we live life as usual must be under 5%.
3. If we respond, it's 100%.
4. We are apostolic people… Jesus left, his work is done… we can't gaze into heaven waiting for Jesus to return!
5. Now we are 'sent ones'… people with a mandate to aggressively impact the world.
6. You cannot sit in this church and avoid the inconvenient challenge to get the work done.
2. A belief in fate minimizes the radical importance of our disciplined participation.
1. 1 Corinthians 9:26-27 (ESV) 26 So I do not run aimlessly; I do not box as one beating the air. 27 But I discipline my body and keep it under control, lest after preaching to others I myself should be disqualified.
3. Additionally, the many prophecies that have been revealing God's plans for an outpouring in Detroit are conditional.
1. In order to see them come to pass, we must involve ourselves in the process.
2. As Mike Bickle says, "Prophecy isn't a guarantee, it's an invitation."
1. The Great Commission!
2. We must do the work!
3. There is a fervent, holy striving that must return to the church.
4. Luke 13:23 Then one said to Him, "Lord, are there few who are saved?"
And He said to them, 24 "Strive to enter through the narrow gate, for many, I say to you, will seek to enter and will not be able.
1. If being saved is hard and requires striving, we have to know that our part in revival will require even more.
2. Strive–The word signifies to "contend" as for the mastery, to "struggle," expressive of the difficulty of being saved, as if one would have to force his way in.
3. Matt 28:18 Then Jesus came to them and said, "All authority in heaven and on earth has been given to me. 19 Therefore go and make disciples of all nations, baptizing them in the name of the Father and of the Son and of the Holy Spirit, 20 and teaching them to obey everything I have commanded you. And surely I am with you always, to the very end of the age."
1. From cover to cover in scripture, man had to do it!
2. We are commissioned and empowered by God to do it!
1. Noah had to build the boat.
2. Moses had to confront Pharaoh.
3. Paul had to start churches.
4. Peter had to preach.
5. Jesus had to die! And, we do too.
1. We have to pray, serve, feed the hungry, win the lost, do the work.
2. If you are called to translate the Bible like Brian Simmons, you can't just sit back on the couch and wait for the biblical knowledge to overtake you!
3. You study!