Posts Tagged 'transition'
I preached my last message at Revival Church last night—and it's a MUST WATCH!
Last night's service and message were intense from beginning to end. BY ALL MEANS watch my last message at Revival Church.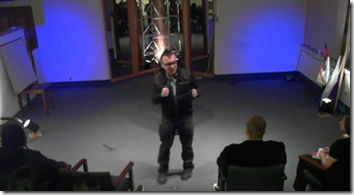 I discuss the critical call for the remnant to prepare for a shock to the church and to the earth.
Will American Christianity finally rid itself of a casual approach? Will we reject an independent spirit? Will we pray continually or just focus on nice church services?
It's time for fire to erupt! That fire must explode out of God's remnant people who are ready for massive change—a shift that will result in the old model of church giving way to an extreme, demanding and troubling new wineskin.
I bless Detroit as I move on to Branson, Missouri. Amy Smith has been prepared for such a time as this and I'm excited about her continuing leadership at Revival Church!
Join her and the team of passionate warriors every Saturday at 7pm!
Revival Church is located at 26091 Sherwood, Warren, MI 48091.
Here's the video:
Here's the notes:
Teacher: John Burton
Teaching Title: Transition Commission
A Prophetic Company

Six years of sounding the same message seems like a long time, but this group is barely getting started.

The prophetic word of reformation that God is delivering to this region is critical, and until there is response the alarms must continue to sound.
Remember, this ministry is called to awaken the church and call it into revolution—don't ever lose that.

Leonard Ravenhill: The greatest need tonight in America is prophets!
Leonard Ravenhill: There is a terrible vacuum in Evangelical Christianity today. The missing person in our ranks is the prophet. The man with a terrible earnestness. The man totally other-worldly. The man rejected by other men, even other good men, because they consider him too austere, too severely committed, too negative and unsociable.

The call is for the pavement people—those who are found on their faces crying out day and night for revival.
Their focus isn't on crowds, polished worship or programs for the whole family.
The focus is on the groan. Until people are seen on their face and heard groaning in intercession we will know the assignment is not complete.
Rare China video: www.johnburton.net/messages
The reformed model of church is not only shunned, it's renounced and soundly rejected by even some of the most zealous Christians. They consider them opinions or suggestions instead of mandates.

The cost is too high.
It's radically uncomfortable.
It's seen as extreme and too far reaching.
Will the church heed the word of the Lord?
8. Leonard Ravenhill: "In a day of faceless politicians and voiceless preachers, there is not a more urgent national need than that we cry to God for a prophet! The function of the prophet, as Austin Sparks once said, "has almost always been that of recovery". The prophet is God's detective seeking for lost spiritual treasures. The degree of his effectiveness is determined by the measure of his unpopularity. Compromise is not known to him. He has no price tags. He is totally "otherworldly". He is unquestionably controversial and unpardonably hostile. He marches to another drummer!"
b. The word came to Jeremiah concerning all the people of Judah in the fourth year of Jehoiakim son of Josiah king of Judah, which was the first year of Nebuchadnezzar king of Babylon. So Jeremiah the prophet said to all the people of Judah and to all those living in Jerusalem: For twenty-three years–from the thirteenth year of Josiah son of Amon king of Judah until this very day–the word of the LORD has come to me and I have spoken to you again and again, but you have not listened. Jeremiah 25:1-3
For 23 years, the Lord had spoken to His people through His prophet but to no avail.
Jeremiah means: whom Jehovah appoints
Jeremiah lived to see his nation go down into sin, war, and, finally, judgment. Through it all, he was faithful to preach the Word of God.
c. And though the LORD has sent all his servants the prophets to you again and again, you have not listened or paid any attention. They said, "Turn now, each of you, from your evil ways and your evil practices, and you can stay in the land the LORD gave to you and your fathers for ever and ever. Do not follow other gods to serve and worship them; do not provoke me to anger with what your hands have made. Then I will not harm you." "But you did not listen to me," declares the LORD, "and you have provoked me with what your hands have made, and you have brought harm to yourselves." Jeremiah 25:4-7
For over two decades, the prophet has warned God's people to repent or perish.
Jeremiah's message fell on deaf ears and defiant hearts.
Will you still boldly call people to response as Jeremiah did?
Leonard Ravenhill: "Our pulpits today are occupied with puppets rather than with prophets, with organizers rather than with agonizers."
Pastor Dan Parton of Manitou Springs: Twenty-three years is a long time for a man to preach with no results. Twenty three years is a long time for a man to preach to deaf ears. Twenty-three years is a long time to be ridiculed and punished for your ministry, yet Jeremiah remained faithful.

Commissioning

Those who know their purpose and who are burning with a message rarely quit. Will you quit?
b. "Before I formed you in the womb I knew you, before you were born I set you apart; I appointed you as a prophet to the nations." Jeremiah 1:5
Like Jeremiah you were formed, you are known, you are sanctified and you are ordained.
c. "Ah, Sovereign LORD," I said, "I do not know how to speak; I am only a child." But the LORD said to me, "Do not say, 'I am only a child.' You must go to everyone I send you to and say whatever I command you. Do not be afraid of them, for I am with you and will rescue you," declares the LORD. Then the LORD reached out his hand and touched my mouth and said to me, "Now, I have put my words in your mouth. See, today I appoint you over nations and kingdoms to uproot and tear down, to destroy and overthrow, to build and to plant." Jeremiah 1:6-10
This is what Detroit needs.
You are the prophetic voices.