Posts Tagged 'revivallab'
Jet the revival baby and I discuss the vision behind our ministry of taking the fire of revival to the cities of the Earth.
In the video I was holding Jet on my lap and I said, "Hey, wouldn't it be cool if I brought my revival baby with me when I and the team come to minister in your church?" Jet is really excited! He's wondering when it's going to happen. He just asked, "Dad, how many sleeps until we go to a church?"
I love that little guy!
I believe you will be awakened to the vision of burning as you watch this new xpmedia video. We are ready to bring the team to hold prayer events, workshops and revival services to your church—anywhere in the world! You can watch the latest video at www.revivallab.com/xp.
You can learn more and book us at www.johnburton.net/booking.
(You can take a look at the newly designed ministry site… it's a portal for all of our ventures.)
theLab School of Fire
We are changing the name of theLab Internship to theLab School of Fire—and you are invited to join us in our next three-month session which begins January 7th, 2012. Save $200 if you register by November 30th!
Head on over to www.revivallab.com and apply today! Only $25 is due upon applying and the remainder is due the first day of classes.
You will be literally changed in such a way that the rest of your life will feel the impact. It is that powerful.
Meet up with theLab TONIGHT at 10pm at TheCall! We will be at GATE 1A by the Lions Pro Shop!
theLab releases the fire of revival through deep groans of intercession every Friday night at 10pm. God has been blowing our minds by faithfully opening doors at different Detroit region churches every week.
We are boldly calling together 1000 burning men and women of God to travel with us around the city every Friday night.
Learn much more at www.revivallab.com!
THELAB INTERNSHIP
Early registration is almost over! Watch a video at www.revivallab.com and then save $200 if you register by November 30th, 2011! Go to www.revivallab.com/apply today!
MATT SORGER & CATHERINE MULLINS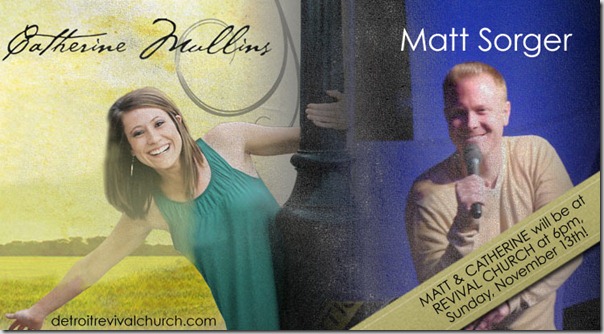 Sunday is going to be EXPLOSIVE at Revival Church!
Join us at 5pm for some of the hottest, fiery prophetic intercession around! We'll be preparing the way for the spirit of revival to launch!
Then, at 6pm, Catherine Mullins will be leading us into the burning presence of God!
Matt Sorger follows with a night of signs, wonders and miracles!