Posts Tagged 'documentary'
The prophecies have been clear, and now video is here!
Have you ever wondered how the Brownsville revival broke out? Or Azusa, or Toronto?
Of course, we have some great historians that have done a good job of breaking this down for us, but… what if…
…what if there was a video record of the teachings and calls to action that preceded an outpouring?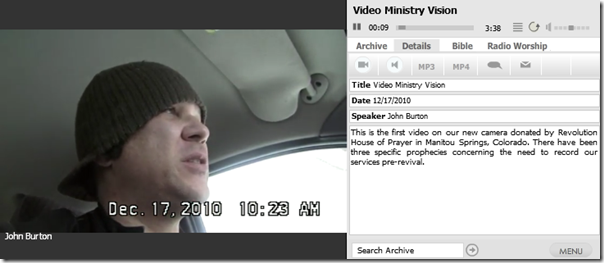 Imagine 50 years from now in a school of revival somewhere in the world… possibly in a village in Africa or a homeless shelter in a city in Europe… or in Bible colleges… countless hours of video was being studied and the teachings implemented in their own pursuit of revival. Wow!
So, this massive drama is before us. Thanks to Revolution House of Prayer in Manitou Springs, Colorado, we have the camera. The services and events at Revival Church will be recorded starting this Sunday, and our prayer is that many people around the world, both now and after the revival lands, will glean key strategies from them.
Three key people prophesied that news cameras would be in our building recording the revival. But, they also prophesied that we needed to have cameras in the building BEFORE the revival so a before and after documentary could be produced.
Now, we still do have needs to take this media missions ministry to the next level. Can you help?
A second camera ($500)
A video board (?)
Monthly broadcasting on xpmedia.com ($250/month)
You can donate at www.detroitrevivalchurch.com/donate. Send an email to me at [email protected] to let me know that your donation is specifically for the media ministry.
You can watch a quick video that I took at www.detroitrevivalchurch.com/teaching.
Also, be sure to subscribe to our YouTube videos… these are taken 'on the go' and I talk about the messages that God's burning in my heart in the moment. www.youtube.com/johnburtonministries.