Posts Tagged 'carriers of fire'
There is time to make your tax-deductible, end of year gift now.
Amy and I want to THANK YOU for contending with us for revival in the nations!
Your gift enables us to continue impacting the world with messages of freedom, revival, prayer and advance!
You can give online now and receive a 2016 tax deduction.
If you wish to mail your gift, please ensure it is postmarked by December 31, 2016.
You can make the check out to: Carriers of Fire International (or COFI)
You can mail the check to: John Burton, 113 Rose O'Neill Drive, Branson, MO 65616
With your partnership we can see even greater things happen in 2017!
Check out our first broadcast in our BRAND NEW STUDIO in Branson, Missouri!
First, I want to encourage you to listen to a powerful teaching that I brought during an interview HERE. I talk about terrorism, false salvation and the end times.
---
Now, check out our VERY FIRST BROADCAST from our new studio in Branson, Missouri!
I give some introductory info and then share a short, off the cuff teaching on the pressure people put on church leadership to build large kingdoms instead of fulfilling their mission.
Soon, I'll have all of our videos in a central location at thefurnace.tv, but for now you can watch directly on Vimeo HERE.
We are working out some minor kinks, including the audio, but our initial video didn't turn out too bad at all!
WATCH: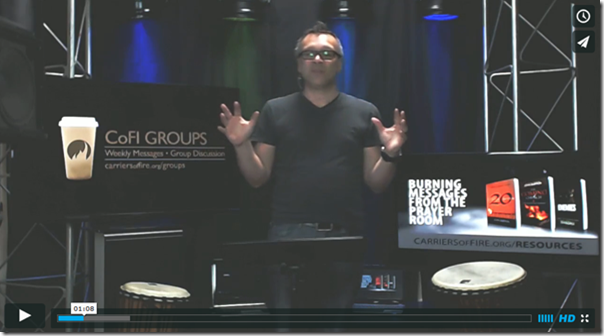 Join a movement of prayer in Detroit
Many of you are already aware of our ministry of prayer that has been advancing in Detroit over the last six years, but I wanted to send an important update to you.
If you are in the Detroit region, definitely lock in and pray. You will make a difference that will impact the region and eternity!
From Amy Smith:
As most of you know, John and Amy Burton have moved out of Detroit and on to Branson, MO where Apostle John is getting ready to launch into the next level of developing Carriers of Fire International through media, writing and traveling. We're so excited about what God will be bringing from Branson!
Meanwhile, here in Detroit, we are forging ahead as we transition from Revival Church to theFurnace CoFI group. The vision is not decreasing but, indeed, increasing! I am trying to keep up the pace as God keeps sharing more and more of the vision and bringing pieces together.
One thing we are sure of and that is that God is calling us as City Church Intercessors to pray for the restoration of God's government in the church in our region and beyond. We have a burning passion for the body of Christ to see us grow and mature "until we all attain to the unity of the faith and of the knowledge of the Son of God, to mature manhood, to the measure of the stature of the fullness of Christ."
We hope you'll join us as we gather and pray together to see God's will be done on earth as it is in heaven.
Here are a couple highlights we're looking forward to:
We will be joining forces with Shekinah at JHOP in Dearborn every 2nd Friday of the month! It's going to be a great time and POWERFUL!
We are also in the very beginning stages of developing a regional flag team that will carry out strategic prayer assignments throughout the region.
If you would like to receive more information on what we're doing here in Detroit at theFurnace and how you can be a part, make sure you click on the link below and subscribe to receive our email updates.
SUBSCRIBE HERE!!! http://eepurl.com/bhuc25
Many Blessings!
Amy Smith
carriersoffire.org
Don't forget to subscribe!!!