The cross must be the message of the hour—when a focus on personal benefits is all the rage in the church.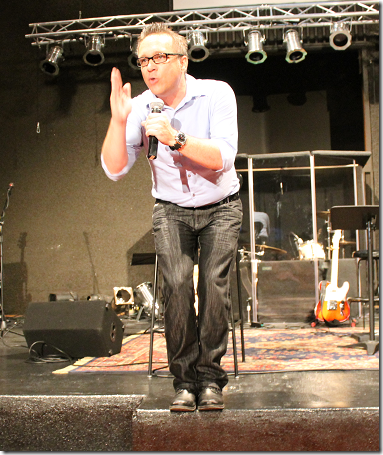 You can listen to the teaching here: media.johnburton.net/2569257
In this teaching I discuss how easy it is to deviate from clear scriptural truth simply because we don't personally see God in that light, or because we have adopted a theology of exemption—Christians are exempt from the repercussions of sin and disobedience.
"For the time will come when they will not endure sound doctrine; but wanting to have their ears tickled, they will accumulate for themselves teachers in accordance to their own desires," (2 Tim. 4:3).
Jesus didn't die on the cross to make it easy for us to get saved. He died so it would be possible for us to get saved.
We must work out that salvation with fear and trembling. Only if we endure to the end will we be saved.
Universalism is creeping into some of our most popular churches and movements, and we should be extremely alarmed.
The False-Grace movement has an older brother named Christian Universalism—and both are equally deadly.
From www.carm.org:
Christian Universalists claim to hold many of the tenets of historic Christianity: Trinity, deity of Christ, deity of the Holy Spirit, salvation by grace, etc.  However, it also claims that God's qualities of love, sovereignty, justice, etc., require that all people be saved and that eternal punishment is a false doctrine. Universalists teach that God is so full of love, that He simply cannot send anyone to eternal hell fire. It is against His infinite love. In the truth of God's word, we find that the Lord has provided one way by which we may be saved. That single way is through Jesus' sacrifice. For all who trust in Him, salvation will come. But to those who turn away, God's wrath abides upon them: "He who believes in the Son has eternal life; but he who does not obey the Son shall not see life, but the wrath of God abides on him," (John 3:36). God is love (1 John 4:8), but God also punishes the sinner and hates all who do iniquity. God is not one sided. He is not simply an infinitely loving God. He is also infinitely just. He must deal with sin. He must punish the sinner.
Note the difference: False grace teaches that Hell is not a concern for Christians and Christian Universalism teaches that there is no Hell. Different twists on the same false doctrine.
We must move away from declaring that salvation is free—without cost. To follow Jesus it will require every single part of our lives, it demands dying daily, taking up our own cross.
I've often heard a dangerous doctrine being taught and embraced: "Your sins are forgiven past, present and future."
This is not true. Not even close.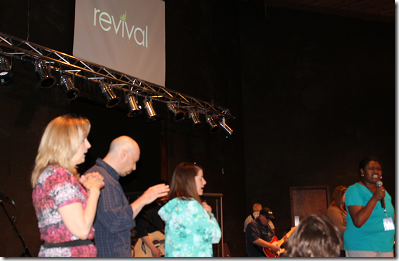 Confession and repentance is still required for the Believer. A focus on benefits results in a de-emphasis on the mandates, the requirements, the response.
Amy Smith: Misrepresented grace has caused us to respond to the command to be holy with an elbow bump and a wink, wink. "Ok God, we know what you mean. You're not really asking us to be holy, you're just telling us to make sure we're under your grace. We know that You're overlooking those little sins we're not dealing with. In fact, your grace allows us to also overlook some things, such as all the scripture verses that call for standards that are higher than we can achieve."
You can listen to the teaching here: media.johnburton.net/2569257 
And here are the notes for you to follow along with:
TENETS: BENEFITS VS. COST
a. The reality of the Gospel
i. So far we've touched on doctrines of mixture that I call 'nephilim doctrines', false-salvations, the Word of God vs. the Spirit of God, absolutes of scripture and more.
1. If we are to understand the power of the Bible, we must subscribe to it wholly!
b. The Inerrancy of the Scriptures
1. The inerrancy of the Scripture means that in its original autographs the Bible contains no mistakes. In the original languages in which it was written, it is absolutely infallible—without error whatsoever.
2. This Book was written by man—fallen, weak, sinful man, with all the potential of misunderstanding, misinterpretation, lack of memory, and even the possibility of malicious falsehood. Yet, it is claimed that the Book man wrote contains no evidence whatever of all these natural weaknesses.
3. The doctrine of inerrancy comes from the Scriptures themselves. It claims to be inspired by God. "All scripture is given by inspiration of God" (2 Tim. 3:16). "For the prophecy came not in old time by the will of man: but holy men of God spake as they were moved by the Holy Ghost" (2 Pet. 1:21).
4. The writers of the Old Testament are most explicit in claiming they were speaking the Word of God. They claim 3,808 times to be transmitting His very words.
5. Moses said in the beginning of scripture: Deuteronomy 4:2 (ESV) 2 You shall not add to the word that I command you, nor take from it, that you may keep the commandments of the LORD your God that I command you.
6. In the middle of the Bible, Proverbs 30:5-6 (ESV) 5 Every word of God proves true; he is a shield to those who take refuge in him. 6 Do not add to his words, lest he rebuke you and you be found a liar.
7. At the end of the Bible, Revelation 22:18 (ESV) 18 I warn everyone who hears the words of the prophecy of this book: if anyone adds to them, God will add to him the plagues described in this book,
8. Jesus also found no error in Scripture… he specifically confirmed the whole of the OT. He did not find error or inconsistency with it. He continually based his arguments and exhortations on it.
a. John 10:34-35 (ESV) 34 …and Scripture cannot be broken—
b. Luke 24:44 (ESV) 44 Then he said to them, "These are my words that I spoke to you while I was still with you, that everything written about me in the Law of Moses and the Prophets and the Psalms must be fulfilled."
9. Lewis Chafer says the Bible is infinite because it discloses truth concerning the infinite God, infinite holiness, infinite sin, and infinite redemption.
10. Myer Pearlman concludes his section on bibliology with the words: "Intellectual defenses of the Bible have their place; but after all, the best argument is the practical one. The Bible has worked. It has influenced civilizations, transformed lives, brought light, inspiration and comfort to millions. And its work continues."
a. 1 Thessalonians 2:13 (ESV) 13 And we also thank God constantly for this, that when you received the word of God, which you heard from us, you accepted it not as the word of men but as what it really is, the word of God, which is at work in you believers.
b. It's God breathed. It's the same language and meaning that we see when God breathed into Adam.
c. Amazing!
11. Next we'll look at some very basic Bible realities that are at risk of being overlooked or dismissed today.
12. In the teaching we'll also look at the divisions of scripture—the difference between the OT and the NT.
ii. Benefits
1. Chuck Missler: The only sure barrier to truth is to assume you already have it.
a. We must be open to the truth of God's Word.
b. 1 Timothy 2:4 (ESV) 4 who desires all people to be saved and to come to the knowledge of the truth.
c. Salvation and truth go hand in hand.
i. The way you believe has eternal implications!
ii. Galatians 1:8-9 (ESV) 8 But even if we or an angel from heaven should preach to you a gospel contrary to the one we preached to you, let him be accursed. 9 As we have said before, so now I say again: If anyone is preaching to you a gospel contrary to the one you received, let him be accursed.
iii. Accursed: excommunicated; bind under a great curse
2. Today the church is focused on the benefits of the Believer—to an unhealthy degree.
a. Salvation is not about our comfort, it's about our obedience.
b. Jesus didn't die on the cross to make it easy for us to be saved, he died on the cross to make it possible for us to be saved.
c. Pastors, quit majoring on benefits in your preaching… let the Word offend, trouble, convict and break people… right into costly freedom.
3. There is a healthy way to focus on blessing as we see in Psalm 103:
a. Psalm 103:1-5 (ESV) 1 Bless the LORD, O my soul, and all that is within me, bless his holy name! 2 Bless the LORD, O my soul, and forget not all his benefits, 3 who forgives all your iniquity, who heals all your diseases, 4 who redeems your life from the pit, who crowns you with steadfast love and mercy, 5 who satisfies you with good so that your youth is renewed like the eagle's.
i. Even here we are to bless the Lord, not focus on him blessing us!
ii. The Abrahamic covenant… be blessed to be a blessing!
4. But check this out:
a. Psalm 116:12-14 (ESV) 12 What shall I render to the LORD for all his benefits to me? 13 I will lift up the cup of salvation and call on the name of the LORD, 14 I will pay my vows to the LORD in the presence of all his people.
b. Marquee in Dallas
c. Health and wealth
i. There are truths in those movements… but when is the last time you've heard these preachers preach the cross??!
d. We focus on getting instead of giving! Man, so many will only give money if they believe that more money will be multiplied back!
5. The reason this is a problem is this: A wrong focus on an incomplete gospel threatens our position in Christ… and it threatens other people too!
a. Many people bypass the cross and live a benefit driven life and are living in an unsaved state… and the 'salvation' they may be sharing with others is also illegitimate!
b. 2012 stats: Every second two people die. 151,600 people die every day.
i. So, maybe once or twice an hour someone squeaks through to heaven. Salvation is rare.
ii. Many of them are wrongly convinced of their position in Christ because of a wrong understanding of the gospel.
iii. A theology of exemption where we presume we are immune from repercussions of disobedience is causing many to die in sin.
c. Check out true blessing:
i. 1 Peter 4:12-18 (ESV) 12 Beloved, do not be surprised at the fiery trial when it comes upon you to test you, as though something strange were happening to you. 13 But rejoice insofar as you share Christ's sufferings, that you may also rejoice and be glad when his glory is revealed. 14 If you are insulted for the name of Christ, you are blessed, because the Spirit of glory and of God rests upon you. 15 But let none of you suffer as a murderer or a thief or an evildoer or as a meddler. 16 Yet if anyone suffers as a Christian, let him not be ashamed, but let him glorify God in that name. 17 For it is time for judgment to begin at the household of God; and if it begins with us, what will be the outcome for those who do not obey the gospel of God? 18 And "If the righteous is scarcely saved, what will become of the ungodly and the sinner?"
ii. If we are righteous, we are this close to not being saved! Yet false doctrine today tells us that if we are saved we are far from losing that salvation!
iii. Once saved rarely saved!
1. Revelation 3:5-6 (ESV) 5 The one who conquers will be clothed thus in white garments, and I will never blot his name out of the book of life. I will confess his name before my Father and before his angels. 6 He who has an ear, let him hear what the Spirit says to the churches.'
2. Psalm 69:28 (ESV) 28 Let them be blotted out of the book of the living; let them not be enrolled among the righteous.
3. Hebrews 10:26-27 (ESV) 26 For if we go on sinning deliberately after receiving the knowledge of the truth, there no longer remains a sacrifice for sins, 27 but a fearful expectation of judgment, and a fury of fire that will consume the adversaries.
iv. One of the greatest biblical violations, with the greatest eternal impact, is when we eliminate works, suffering and cost by saying we aren't in the old covenant anymore!
v. The NC didn't remove works or suffering from the experience of the Christian… it added it!
6. Dag Heward-Mills: Christianity is about losing, sacrificing, suffering and dying.
a. For those who focus on the benefits, what is being communicated is that life isn't complete for the Christian until everything is perfect.
b. But, for the true Believer, Jesus is enough no matter the circumstances!
c. These are four spiritual appointments that all Christians must expect in one form or another. No one who truly follows Jesus Christ will escape these four appointments.
i. "For whosoever will save his life shall lose it: and whosoever will lose his life for my sake shall find it." (Matthew 16:25)
ii. "Confirming the souls of the disciples, and exhorting them to continue in the faith, and that we must through much tribulation enter into the kingdom of God." (Acts 14:22)
iii. "By him therefore let us offer the sacrifice of praise to God continually, that is, the fruit of our lips giving thanks to his name." (Hebrews 13:15)
iv. "And he said to them all, If any man will come after me, let him deny himself, and take up his cross daily, and follow me." (Luke 9:23)
d. Let's see the gospel in action:
e. Acts 7:54-60 (ESV) 54 Now when they heard these things they were enraged, and they ground their teeth at him. 55 But he, full of the Holy Spirit, gazed into heaven and saw the glory of God, and Jesus standing at the right hand of God. 56 And he said, "Behold, I see the heavens opened, and the Son of Man standing at the right hand of God." 57 But they cried out with a loud voice and stopped their ears and rushed together at him. 58 Then they cast him out of the city and stoned him. And the witnesses laid down their garments at the feet of a young man named Saul. 59 And as they were stoning Stephen, he called out, "Lord Jesus, receive my spirit." 60 And falling to his knees he cried out with a loud voice, "Lord, do not hold this sin against them." And when he had said this, he fell asleep.
f. Saul! This was Paul! Stephen's correct understanding of Christianity did this:
i. Jesus was enough! Jesus stood!
ii. The sharp gospel message was heard by all.
iii. Forgiveness was modeled.
iv. Evangelism at its very best was in action as Paul was being set up to be one of the most important Christians in history!
v. False-grace, which we'll keep talking about throughout the weeks of this teaching, deemphasizes all of this.
1. We must die! We must be holy! We must be righteous!
vi. Amy Smith: Misrepresented grace has caused us to respond to the command to be holy with an elbow bump and a wink, wink. "Ok God, we know what you mean. You're not really asking us to be holy, you're just telling us to make sure we're under your grace. We know that You're overlooking those little sins we're not dealing with. In fact, your grace allows us to also overlook some things, such as all the scripture verses that call for standards that are higher than we can achieve."
vii. Live in the NT requires that we live WELL above what we can achieve!
1. I've heard many, many arguments against scripture by zealous Christians… who say that we can't presume to live holy, to be free from sin!!! What???!!!!
2. People say they sin every day!! What?!
3. Ed Hull: When we die, it will not be what we believed about our identity in Christ that will save us. It will be whether the concept of our identity produced good fruit, the fruit of righteousness.
a. It's not about our benefits, our happy demeanor, the way we think about ourselves, our emotional condition… it's about production and obedience!
4. Now, let's again discuss the importance of the Word of God as we talk about the divisions of scripture.
Posted in
The Church
and tagged
audio
,
benefits
,
bible
,
christian
,
cross
,
doctrine
,
ears tickled
,
false grace
,
listen
,
message
,
revival church
,
salvation
,
saved
,
teaching
,
tenets
,
theology
,
universalism
,
universalists
Leave a comment