The Eternal Danger Of A Casual View of The End-Times
It seems to be uncommon if not rare to find churches today that are preparing people for the end-times.
"I'm not a pre-tribber, a post-tribber or a mid-tribber. I'm a pan-tribber. I believe it will all pan out in the end!"
That's the whimsical, fantastical argument many casual, unconcerned people are making today regarding the most critical season in all of human history. In fact, I've heard many pastors defend their reluctance to address eschatology by saying similar things. No, it absolutely won't all pan out in the end if we don't prepare with intense and strategic discipline. In fact, I believe innumerable current Christians may spend forever in torment because of a failure to prepare. As I jump into this, I implore those of you who are already chomping at the bit to defend your eschatological position with determined ferocity and great verbosity in the comments—just don't. This article is not a study of the eschatological timeline. I will present some suppositions, and I don't hide the fact that I firmly believe the church will be here during the Tribulation, but if you are looking for an end-time Bible study, you won't find it here. Your comments would be better served addressing the precise topic I am presenting here: preparedness.
SALVATION ALONE WON'T PREPARE US, AND MANY WILL FALL AWAY
3

 Let no one deceive you by any means; for that Day will not come unless the falling away comes first, and the man of sin is revealed, the son of perdition,

4

 who opposes and exalts himself above all that is called God or that is worshiped, so that he sits as God in the temple of God, showing himself that he is God. 2 Thessalonians 2:3-4 (NKJV)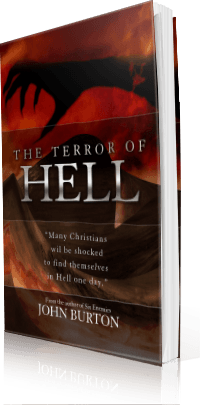 I'd like to present a question. What if many of the varied end-time theologies prove to be wrong and, one day in the near future, we find ourselves face-to-face with the Anti-Christ? Suddenly everything in our life will change. Again, I'm not diving into the specifics regarding precise timing or chain of events. I'm keeping this very simple. Will the church be ready to face such unimaginable, demonic pressure that will seek to crush those who are weak in their faith during the Tribulation? The idea that
salvation
alone will prepare us for the coming end-times is honestly quite hysterical yet so many are convinced it will.
I have actually been criticized for causing fear by encouraging people to be ready for the intensity of that soon coming season. They then stick their heads back in the warm, cozy sand and continue dreaming about fairies, rainbows and unicorns. They presume all to be well and nothing can threaten that, or so they think. Mike Bickle of the International House of Prayer in Kansas City said,
Our world is in a season of acceleration toward two momentous events: the greatest outpouring of the Holy Spirit and the greatest hour of pressure and trouble in all of history.
I'll state it plainly. I believe a life of consecration, intercession and depth in the Word are mandatory if we hope to survive the pressures of the Great Tribulation. Yes, it will be extremely easy and even common sense for those who are the least bit casual and those who have not truly died to their own desires to embrace the Anti-Christ with open arms—and go to Hell.
THE PRESSURES
I personally believe there must be Holy Spirit activity in our lives at an extremely explosive degree if we hope to survive the troubles.
The Church will be victorious in love with power during the most dramatic time in history. This view gives us confidence and urgency to dynamically participate with Jesus now and in the coming revival. ~Mike Bickle
A vibrant and devoted life of prayer cannot be substituted. Dreams, visions and a sharp prophetic daily life will help greatly. Intimacy with Jesus that is only nurtured as we pray without ceasing is mandatory. Additionally, heavenly revelation and the faith necessary to combat the convincing assaults of the enemy will come to those who are filling their lives with the Word of God. They must eat the scroll.
3

 And He said to me, "Son of man, feed your belly, and fill your stomach with this scroll that I give you." So I ate, and it was in my mouth like honey in sweetness. Ezekiel 3:3 (NKJV)
If simple temptations like lust, greed, gossip, pornography, apathy and other common sins are captivating the high majority of professing Christians today (
for example
, 68% of men and 50% of pastors view porn), then what makes us think we will have the spiritual strength to say no to the most powerful wicked manifestation in history, the Anti-Christ? If we aren't wildly consecrated, intimate with Jesus, praying in the Spirt and dead to self we won't be. Understand, the pressures won't be limited to rejecting run-of-the-mill sins. Consider this: We know in the Tribulation we won't be able to buy, sell or trade without the Mark. As a Christian parent, what would you do if your children had absolutely nothing to eat and had no fresh water to drink? It will be easy, and it will feel like love, to make the decision to take the Mark so your family is cared for. What happens when a family member has an asthma attack with no access to a life-saving prescription rescue inhaler? Again, it will feel like love and absolutely obvious common sense to take the Mark of the Beast so they can save them. Certainly God would sanction such a selfless act, right? Wrong. It will be very easy for those who have adopted the
doctrine
of eternal security to take the Mark. After all, the falling away doesn't apply to them and nobody can snatch them out of God's hand, right? Do you now see, if this end-time view is correct, how millions of current Christians can end up in Hell? Once you take the Mark, there is no turning back. Repentance will not be an option. Their remaining time in the Tribulation will be a vacation compared to their soon coming eternal season. Partial Preterists and others who deny a future season of trouble is coming will also have little issue taking the Mark. It's easy today to fall, to live in
sin
, to live every day thinking all is well while living compromised, lukewarm lives. Not one of us can imagine how easy it will be to give in when the cost of standing strong in Jesus becomes so great. Only those who are truly living in the Spirit, walking in that other-worldly, supernatural realm where the Holy Spirit is manifesting with extreme power can hope to survive without falling away. The seriousness on this matter is beyond what I can express. Being a "pan-tribber" would be laughable if that position weren't so eternally deadly. Pastors, you must prepare the people. Those who are simply showing up each Sunday morning, smiling, shaking hands, giving offerings, saying prayers and listening to your Bible teachings are in an extremely vulnerable place. If they aren't deep in God, praying with fervency, encountering God, living in the Spirit and allowing the Word of God to sear their hearts, they have little hope of surviving our current world, much less the one that I and many others believe is coming very, very soon.