Brian Simmons/Catherine Mullins Friday-Sunday
Have you registered? Brian Simmons and Catherine Mullins are in Detroit Friday through Sunday!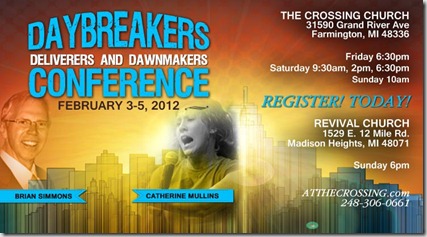 I talked with Brian on the phone today and he said that extended meetings should break out here very soon! The weighty, urgent impression of the Holy Spirit just can't be denied.
I refuse to lead a church called Revival Church if we can't live up to its name. If we call it Revival Church but God considers it to be Ichabod Church, I'm shutting it down. The fear of God is to extreme on me.
We are going after revival. It's literally the ONLY hope for Detroit. As important as social justice and key teachings and unity are, only revival will bring transformation and life to Detroit. Revival must come.
It's time to press and contend and war!
DAYBREAKERS, DELIVERERS AND DAWNMAKERS CONFERENCE: DON'T FORGET TO REGISTER!
Click HERE to register for this very special conference that just may change the face of Detroit forever!
Purpose
One of the words that we keep hearing for 2012 is AWAKENING is COMING! God is prophetically speaking to His people telling them to arise, awake, and accept the light of a new day! Daybreakers are coming who will pull up the dawn bringing the light of the "Day of the Lord" to the earth. It will make the wicked tremble and the truth seekers humble. God will begin something powerful this year that will open doors of evangelism with signs and wonders. A new move of God will start in 2012! DAYBREAKERS are coming!
Invited Ministries
Brian Simmons and his wife Candice, have been described as pioneers, prophets, and pastors. As a spiritual father and mother, their teaching and prophetic gifts have opened doors  in many nations to take the message of authentic awakening and revival to many. For the last 35 years they have labored to present Christ in His fullness wherever God sends them. Brian is the author of numerous books which reveal depths of insight that the Holy Spirit has released for the last days.
Catherine Mullins  song-writer and worship leader, longs to see the Bride of Christ come forth in purity and holiness. Inspired by this, her goal in life is to bring the world into a life-changing encounter with Jesus Christ through worship.  Since the Fall of 2008 Catherine has been traveling extensively releasing her heart for prophetic worship and the Body of Christ. Her desire is that all would come into a deeper revelation of Jesus Christ as Lord of their lives. While at home Catherine leads worship at Coweta Community Church in Newnan, GA.
Schedule
Friday, February 3rd – 6:30 PM

Worship with Catherine Mullins and teaching by Dr. Brian Simmons
Saturday, February 4th – 9:30 AM, 2 PM
Workshops with Dr. Brian Simmons

Saturday, February 4th – 6:30 PM

Worship with Catherine Mullins and teaching by Dr. Brian Simmons

Sunday, February 5th – 10 AM

Dr. Brian Simmons and Catherine Mullins will be ministering at The Crossing Church
Doors will open ½ hour prior to each session.

Sunday, February 5th – 6pm

Dr. Brian Simmons and Catherine Mullins will be ministering at Revival Church
Locations
The Crossing Church (Friday-Sunday morning)
31590 Grand River Ave.
Farmington, MI 48336
Revival Church (Sunday evening)
Revival Church meets at CENTRAL CHURCH
1529 E. 12 Mile Rd
Madison Heights, MI 48071.