Posts Tagged 'dearborn heights'
Merry Christmas! I can't wait for tomorrow morning as I minister the fire of revival in Dearborn Heights at 10am!
Revival Church is MOVING their regular Sunday service to Dearborn Heights on Christmas morning. Instead of our regular 6pm service, we'll join with at least three other churches at Dearborn Heights Assembly of God at 10am.
Enjoy beautiful and powerful Christmas worship and I'll be bringing a life altering message titled Carry Like Mary.
The way you live is about to change!
Amy and the kids and I treated today (Christmas Eve) as if it were Christmas Day in light of tomorrow's service. We had a blast opening presents together and enjoying time as a family. Tomorrow we get to hang out with the rest of our family—YOU included!
You can get more info here: http://www.dhfirstag.org/happenings.html
Where? Dearborn Heights Assembly of God, 5650 S. Telegraph, 2 blocks N of I-94
When? 10am, Sunday, December 25th
Have you heard about sheep stealing? Watch my video on XPmedia… it was a featured video last week!
FIRST: TONIGHT at 6pm we'll in our BRAND NEW LOCATION in Madison Heights! Nothing less than FULL BLOWN REVIVAL is the goal! We are meeting at CENTRAL CHURCH, 1529 E. 12 Mile Rd, Madison Heights, MI 48071.
CHRISTMAS MORNING REVIVAL
Revival Church won't have a Christmas Day service at our location as we are joining with Dearborn Heights Assembly of God Christmas morning!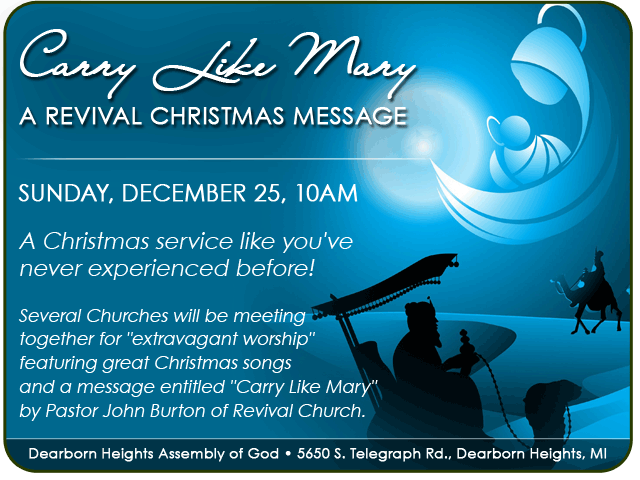 THE SHEEP STEALING MYTH
Discover the city church model that encourages leaders to release people into their destinies. A spirit of competition gives way to unity.
This is a message that must get to every pastor and leader of every church possible! The current church structure is about to collapse, and we need to lock arms in unity as God establishes the soon coming church!
Watch the video here: http://www.xpmedia.com/JXC8vmDR7v4K