Posts Tagged 'scientific'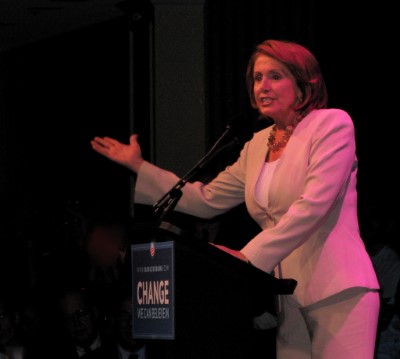 The science argument has neutered much of the church's potent, supernatural message.
"(Nancy Peolosi) suggested that some government officials and members of Congress were anti-science because of their faith." ~The Blaze
Nancy, I'm sorry I used a trigger word in the title (trump), but I had to jump at the chance to address something you said. You were dismayed by "faith oriented" members of Congress who put more stock in God's healing power than in man's scientific advances. As a leader in this Christian nation, I'm stunned that you would have such a viewpoint. Sadly, many Christians have adopted similar faithless ideologies, straying so far from the wonders of supernatural, miraculous, shock and awe faith toward a natural, godless version of spirituality (if such a thing were possible).
The bible calls it a form of godliness. The problem? This style of religion is devoid of power. It's atheistic at its roots, only dressed up to appear just superstitious enough to pass as spiritual. 
We are in the last days, and this issue makes it onto a very sobering list:
"But understand this, that in the last days there will come times of difficulty. For people will be lovers of self, lovers of money, proud, arrogant, abusive, disobedient to their parents, ungrateful, unholy, heartless, unappeasable, slanderous, without self-control, brutal, not loving good, treacherous, reckless, swollen with conceit, lovers of pleasure rather than lovers of God, having the appearance of godliness, but denying its power. Avoid such people." (2 Timothy 3:1–5, ESV)
Lovers of money. Proud. Arrogant. Heartless. Lovers of pleasure. To top it all off, an appearance of godliness and a denial of God's power. 
Avoid such people.
As followers of Jesus, we should be living in the miraculous realm every moment of our lives. It's disheartening that so many professing Christians have fallen for the delusion that science is superior to faith. Scientific fact is the ultimate litmus test. If science proves something in Scripture to be wrong, then science is the clear victor. Nonsense.
WHAT HAPPENED TO THE MIRACULOUS CHRISTIAN LIFE?
People have attempted to use science to silence Christian zealots for centuries. Christians have stumbled over their own arguments by attempting to agree with the opposition. Their debate is fueled by the thesis that what is found in the Bible will always affirm science. They declare that biblical truth will always affirm scientific fact. This argument is doomed from the beginning.
From cover to cover in Scripture we see science defied. It's everywhere. 
Jesus walked on water. Science defied.
Lazarus rose from the dead. Science defied.
A sea split in half. Science defied.
A paralytic walked. Science defied.
The sun stood still. Science defied.
Thousands fed with a few loaves of bread and a few fish. Science defied.
An iron axe head floated in water. Science defied.
And, the Savior of our world was conceived without his parents having sex. Thank God, science was defied. 
WHERE ARE THE AUTHENTIC CHRISTIANS DURING THIS GLOBAL CRISIS?
In an article I wrote titled Christians are Being Embarrassed By The Coronavirus, I dealt with the mostly natural, scientific approach so many followers of Jesus have defaulted to:
Are you taking the opportunity to show the lost you are fearless, full of faith and joyful? Or do they sense your anxiety about coronavirus?

A crisis of faith has been exposed. Coronavirus is embarrassing the church.

Have you noticed any difference at all between the godless world and those who are seated in heavenly places with Christ Jesus, the Healer? Bold decrees of faith, not confessions of fear and worry, should be exploding out of our mouths!

Instead, Christians are hiding in caves, running from the battle and trembling not in the fear of the Lord, but the fear of the enemy.

Sure, take precautions, but don't cower. Don't respond like the world. Don't allow the enemy to impact your life. Live! Be free! You are covered by the blood of Jesus!
An unmoving devotion to belief, to faith, to confidence that supernatural, divine healing is our portion should be the mark of every Christian. Faith trumps science.
In fact, when we gain more confidence in vaccines and other medical measures than we do in God's desire and ability to heal, we set ourselves up for judgment.
"In the thirty-ninth year of his reign Asa was diseased in his feet, and his disease became severe. Yet even in his disease he did not seek the LORD, but sought help from physicians. And Asa slept with his fathers, dying in the forty-first year of his reign." (2 Chronicles 16:12–13, ESV)
King Asa's devotion to doctors to the exclusion of God resulted in his judgment. Death.
To be fair, what Nancy said isn't completely untrue:
"People say around here sometimes, 'I'm faith-oriented so I don't believe in science' and I said, 'Well you can do both. Science is an answer to our prayers and our prayers have been answered with a vaccine,'" 
To be clear, I doubt the people around her who live by faith actually said that they don't believe in science. Gravity is real. So are germs. So is medicine. Nobody would debate any of that. My guess is they were saying that faith trumps science. That is what I agree with, and apparently what Nancy disagrees with.
However, she did point out that both faith and science can work together. Scientific discovery can be the answer to prayer. I agree with that. What I disagree with is that faith must align with science. If our faith must come under submission to scientific fact, then we'd be nothing more than full blown athiests. A people who deny supernatural wonders whenever they contradict with scientific proof. These people are rejecting the power of God and the Bible commands us to have nothing to do with them.
NANCY, I IMPLORE YOU TO REPENT AND TO DISCOVER THE GLORIES OF SUPERNATURAL LIVING
By giving science and the natural realm more credence than the invisible realm, we imprison ourselves to its restrictions. This is a terrible, disappointing and powerless way to live.
When we live our lives not by sight, but by faith, everything changes in a moment! Miracles are common! The impossible becomes probable! The presence of the Holy Spirit radiates all around us!
We can't live like King Asa, running to the physicians, the scientists, the logical intellectuals in search for answers. Our first and continual focus must be on our omnipotent God and his plan to work miraculously in our lives. From that place we can certainly take advantage of natural remedies. But, our faith must be extreme and it must be in a God we cannot see and his abilities that are far greater than any scientist that has ever lived. Yes, Nancy, faith absolutely trumps science. Every day of the week.
"Trust in the LORD with all your heart, and do not lean on your own understanding." (Proverbs 3:5, ESV)
Photo credit: "Nancy Pelosi Introducing Obama in SF" by jurvetson is licensed under CC BY 2.0
Originally published by The Stream.