Book John Burton for an event in your church and experience the fire and the glory of the Holy Spirit!
An event with John Burton will result in an atmosphere of freedom, fire, healing and joy!
John is currently scheduling meetings both nationally and internationally through the rest of 2012 and into 2013. He has a diverse ministry, has written six books and is ready to preach and train in revival, prayer, local church health, personal freedom and other powerful topics.
For more info and to book John visit www.johnburton.net/booking today!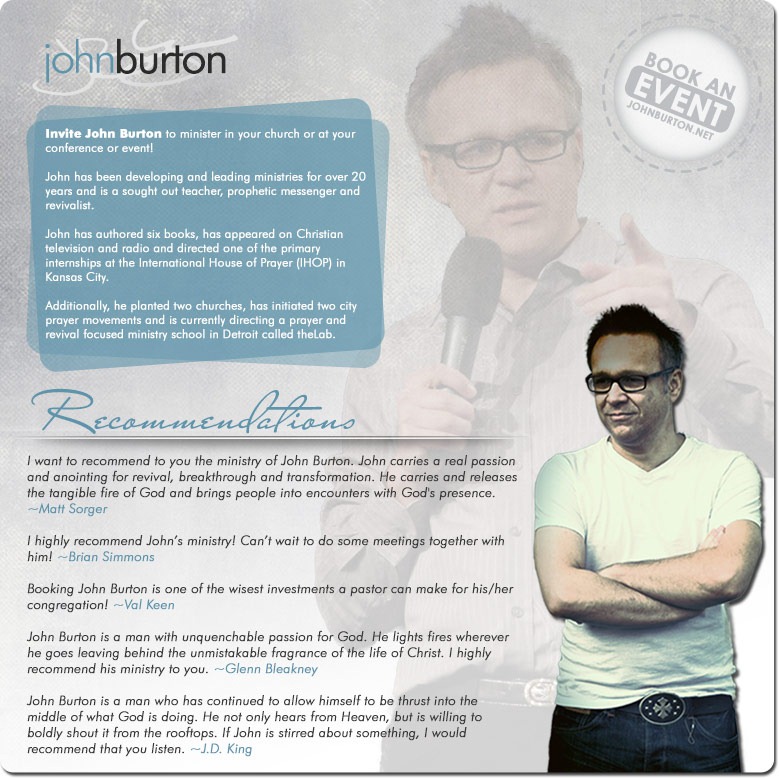 JD King has extreme revival wisdom and carries an anointing for healing and fire!
He will be ministering in the spirit of revival tomorrow (Sunday) at 6pm at Revival Church.
Come expectant and bring every friend you can find.
Here's some info about JD King:
J.D. King, International Director of World Revival Network says, "Learning what revival looked like historically can help us understand how we should respond when God comes down in our own lives today."

King is an expert when it comes to revival. Son-in-law to Pastor Steve Gray, he was a participant in the Smithton Outpouring when the "lightnings of God" first struck Pastor Steve and spread to the whole congregation. Plus, he's been with revival during the transition to Kansas City in 2000 and the fresh upsurge of May 2, 2008 at World Revival Church.

Additionally, he's visited most of the major historic sites of revival including Wales and the Hebrides Islands, with opportunities to interview people who were a part of these past moves of God. King's library includes over 1,000 volumes on revival and he has himself written two books on revival.

J.D. King heads up World Revival Network of Ministries.
Here's an article by JD King:
Conspiracy Against the Supernatural
While the Spirit of God has moved powerfully throughout history, there has been a tendency to downplay the supernatural. Movements birthed in revival, later "sanitize" their histories; leaving out phenomena and anything unusual.
This is certainly reflected in the histories of Baptists, Methodists and the Disciples of Christ. Many early American churches experienced great stirrings of revival during the period of frontier expansion. For example, an early campmeeting involving Methodists and Presbyterians was depicted as follows:
"…praying, singing, exhorting, and preaching were kept up day and night. Physical expressions of the excitement were numerous and sometimes took bizarre forms…The most common physical experience was 'falling'…hundreds displayed convulsive physical contortions which were known as 'the jerks.' Frequently those who came to remonstrate or ridicule were themselves sudden victims. Barking, running, jumping, and trances were common." (Kenneth Scott Latourette, A History of the Expansion of Christianity, IV Grand Rapids: Zondervan, 1970, p. 193.)
Now, what did a modern Evangelical historian have to say about his own spiritual forefathers? With a detached condescension he wrote, "The roughness of frontier life, its absence of social controls, and the scarcity of social contacts for those living in isolated cabins, made such people susceptible to uncontrolled displays when they found themselves in the company of large numbers." (The Return of the Spirit: The Second Great Awakening; Christian History Magazine; July 1, 1989) As usual, the Spirit's work was discounted with patronizing disbelief. Many assume a natural or sociological explanation for things which could just as easily be understood in supernatural terms.
This unbelieving outlook is hardly new. A few years ago Jack Deere told about the cover-up of a forerunner to John Knox and the Scottish Presbyterians. Deere first read about George Wishardt in an Eighteenth Century book he found in a used book store. Describing Wishart, the writer of this book declared, "He possessed the Spirit of Prophecy in an extraordinary degree."
Later Deere uncovered a newer edition of "Scots Worthies" and was astounded that the account of Wishart had been changed. The revised edition now affirmed the following, "He possessed an extraordinary degree of sagacious foresight." While the original edition affirmed the supernatural, the later edition attributed Wishart's insight to natural wisdom. It seems another leader is busy sanitizing the annals of history; causing others to overlook the supernatural activity of God.
The church needs to reconsider the constraints that have been put on our understanding of miracles and revival phenomena. What has happened in the past continues to this day. We must drive out the conspiracy against the supernatural.
THIS SUNDAY JD King from World Revival Church of Smithton Outpouring fame will be fanning the flames at Revival Church!
I'm going to include an article in a moment that will cause you to come alive.
JD King is a great friend and a brilliant revival mind. He just got back from Bethel and is feeling something very real and powerful is going to land at Revival Church Sunday.
You will glean so much from him as he shares key revival principles. I just got off the phone with him and he casually shared a few things that are right on:
Revival almost always starts with a small flicker. JD believes many small flames of revival have ignited in churches and cities all over the world, but there weren't people interested in stewarding it. That resulted in fizzle after fizzle as the flames went out. Azusa, Smithton and other revivals started with small groups of people who wouldn't take no for an answer. Evan Roberts was turned down by his pastor the opportunity to preach so he burned in front of 6 youth for three hours—and they finally caught the fire and the rest is history!
Be prepared for the revival to ignite in a single hot spot in a city, as opposed to expecting it to uniformly and spontaneously launch in a wider area. Stewarding revival is a massive undertaking, and concentrated and organized local leadership will be a strength as the masses converge.
Signs and wonders are extremely important, but developing a culture of revival oriented leadership is at least as important. Gathering and equipping a leadership team is needed to withstand the weight of a massive outpouring.
Come at 5pm for a critical and exciting time of prophetic intercession and then at 6pm we will start the night full of faith for healings and miracles!
Here's the article on the Smithton Outpouring:
SMITHTON, Mo. (ABP)–It's Saturday night at Smithton Community Church, and the outpouring service is starting to sizzle. The floor shudders from the impact of worshipers leaping in unison as they sing along with a loudly electrified praise band.

At a signal to pray, hundreds of hands shoot up like football referees signaling a touchdown. During corporate prayer, the congregation pulses with an unintelligible drone of voices.

---

A WORSHIPER falls to the floor during an ecstatic experience at Smithton Community Church in Smithton, Mo. (Photo by Tim Palmer)

---

Through body-wracking spasms, breaking voices and tears, worshipers testify from the stage and the floor. They tell of deliverance from alcohol, from bitterness, from suicide, from skepticism.

Pastor Steve Gray shouts a scorching sermon on the need to bind the "strong man," Satan. Too many churches are preaching a selfish, self-centered, self-esteem gospel, Gray says. "Satan loves a selfish place, because he's selfish!"

Suicides, drugs and divorces didn't used to happen among church people, Gray remarks. "What's out there has gotten in here."

Gray wonders: Could the "Smithton Outpouring" be happening because the church of this day can't last much longer? He points out that in Bible times, the Jews were the people of God. Today, Christians are the people of God. Then and now, something happened; something went wrong.

"Jesus is back on the scene again, and he's going after Satan like he did before! God wants to bring the kingdom into our midst. He's gonna free some people!"
Dozens of visitors stream forward near the end of the four-hour service. One member gets in a visitor's face to pray with fist-shaking fury; another stands behind to catch him when he collapses backward. Someone else drapes a blanket over the prostrate form.

One of those "slain" in the Holy Spirit rises after a short time and returns to her place near the wall. Asked to describe her experience, she simply smiles and replies, "I was with God."

Three years ago, a revival broke out in Smithton. As a result, this Central Missouri community–population 532–has drawn tens of thousands of visitors from across the United States and from other nations. The "Smithton Outpouring" has been described in magazines and on television nationwide.
People have used words like "Pentecostal," "charismatic" and "full gospel" to describe the worship service, Gray said. "If anything sets Smithton Community Church apart, it's that we're believing that the kingdom of God is happening now."

Kathy Gray admits the worship style at the non-denominational church can be shocking to those who aren't familiar with it. But she and her husband contend that practices such as speaking in tongues and being "slain in the Spirit" are innocent and harmless.

This is especially true, they say, when you compare them to other activities seen in many churches–gossip, manipulation, power struggles, love of money. No one's afraid of those, the Grays contend.
Before people react negatively to charismatic practices, Steve Gray suggested, they should ask themselves why they're not reacting similarly to backbiting, pride and other things the Bible clearly says to avoid.
People from nearly all denominations have come to Smithton, Gray noted. "There is a group within them whose hearts are crying out for more."

A large part of this church's ministry is to Christian believers who haven't gotten the help they feel they need in their own churches.

Gail Collins, who was raised a Southern Baptist, started attending the Smithton church 10 years ago. She remembers well the day in 1996 when revival broke out.

"When the power of God came in, I got set free from a lot of those things I couldn't change," Collins said. Her love for God deepened. "He enlarged my heart and gave me a strong desire to be a complete servant."
The power of the Holy Spirit isn't new, Gray said, but had been lost. "We're regaining what was lost through tradition, wrong ideas, wrong thinking. That's why it's available, because it was never supposed to go."
Worship services in churches often represent what happened to someone long ago, he noted. It was fresh then; it's stale now.

Just as the beaten man in the story of the Good Samaritan did not get help from the Levite or the priest, Gray said, people today are not getting help from churches.
"They're being told they are found, but they can't find God. So they come here to this unlikely place that doesn't fit the story."