John Burton is available to minister in your church or at your conference or event. John has been developing and leading ministries for over 25 years and is a sought out teacher, prophetic messenger and revivalist.
John has authored ten books, is a regular contributor to Charisma Magazine, has appeared on Christian television and radio and directed one of the primary internships at the International House of Prayer (IHOP) in Kansas City. Additionally, he has planted two churches, has initiated two city prayer movements and a school of ministry.
He and his wife are currently leading Revival X, a prophetic and prayer-driven church in Branson, Missouri. Learn more, watch videos, listen to podcasts and messages and more at www.revivalx.tv.
He and his beautiful wife Amy have five children and currently live in the Branson region.
"John is dangerously prophetic, provoking passion in those in pursuit of revival. In just a few short years, I have witnessed the impact of his obedience to Christ in a region bound by division & religion. His mandate is one of radical devotion, raising up burning ones and releasing them into new levels in their kingdom assignment."-Marcellis Smith, Lead Pastor, Jubilee City, Detroit, MI
---
Additional resources and info: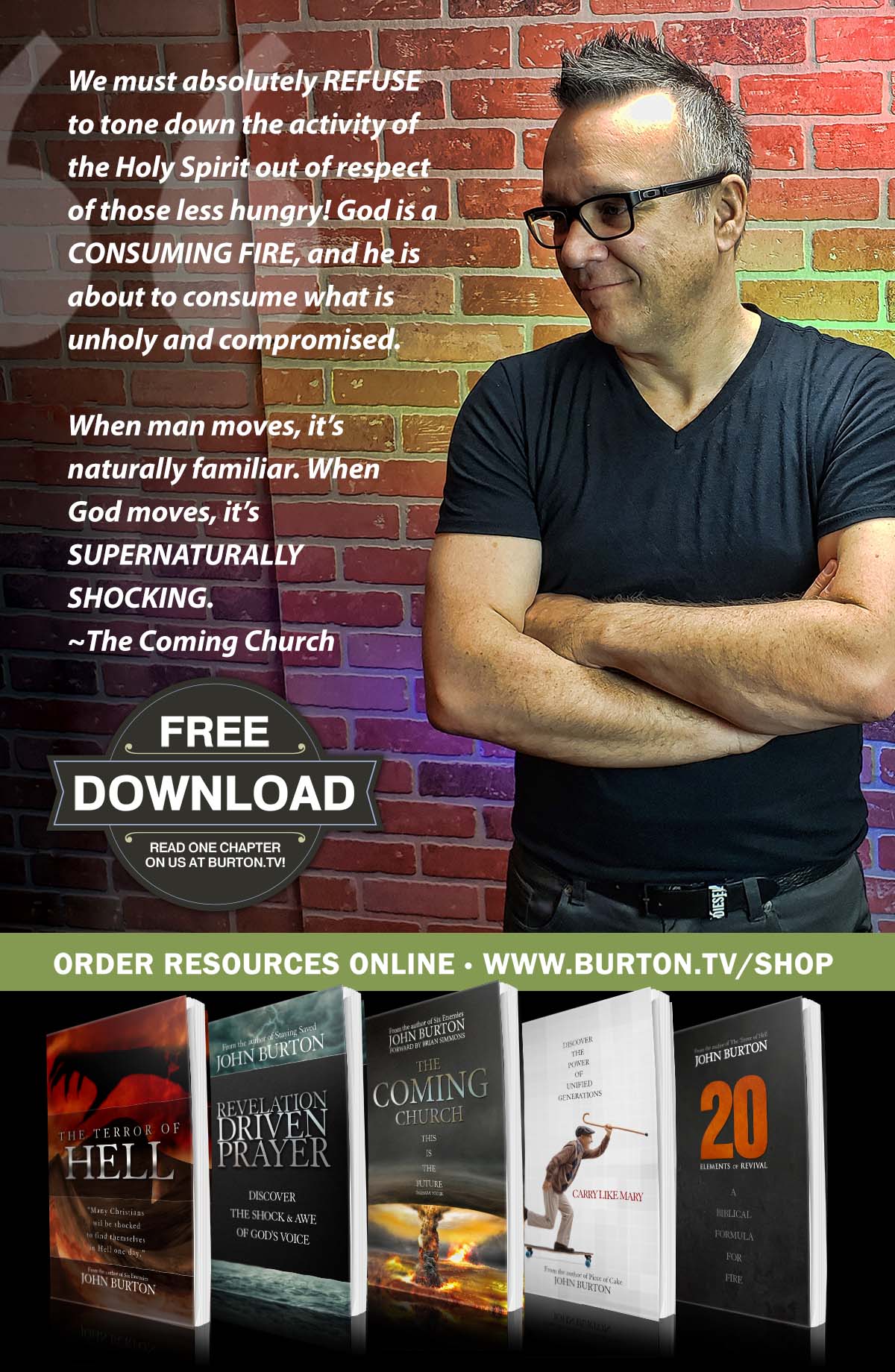 Ministry Recommendations
If you are in a room with John Burton for more than 10 minutes and you don't have a fire in your belly, I would check your pulse...

If you are in a room with John Burton for more than 10 minutes and you don't have a fire in your belly, I would check your pulse. This man is a fire starter and it's catchy! John is a revivalist who burns with a passion to see cities and nations set ablaze with love for Jesus! He is a gifted writer, preacher and prophetic minister. He has clear vision and strategy for city wide breakthrough of revival. I highly encourage you to invite him to your church if you are in need of corporate breakthrough! 

Julia Palermo

Haven't heard this caliber of teaching in over 30 years! He is a TRUE revivalist...

OH MY WORD!! Talk about an on time message from John Burton last night @ God Invasion!! I can truly say it was so refreshing to hear & experience!! Haven't heard this caliber of teaching in over 30 years! He is a TRUE revivalist & while we think REVIVAL is one thing, it's soooo much more!! Get ready folks for GOD'S version of Revival!! It's gonna rock your world!! 

Cindy Hicks Nobles

John carries a real passion and anointing for revival. He carries and releases the tangible fire of God and brings people into encounters with God's presence...

John carries a real passion and anointing for revival, breakthrough and transformation. He carries and releases the tangible fire of God and brings people into encounters with God's presence. He is a strong equipper in the areas of prayer and evangelism and mobilizes people to carry God's word and presence outside the four walls of the church building. John is also a great preacher of the word. He has had many years of ministry experience both as a pastor and evangelist. His understanding of local church ministry makes his ministry well rounded and unique. He pastors, oversees a school of ministry and travels releasing the fire of God and igniting hearts with a passion for Jesus. I believe he would be a great blessing to your church.

Matt Sorger

If John is stirred about something, I would recommend that you listen...

John Burton is a man who has continued to allow himself to be thrust into the middle of what God is doing. He not only hears from Heaven, but is willing to boldly shout it from the rooftops. If John is stirred about something, I would recommend that you listen. 

JD King
International Director
World Revival Network of Ministries

I'm thankful for men like John Burton who hear a sound coming out of heaven, a trumpet sound, calling this generation to something more than good meetings and life as usual...

I'm thankful for men like John Burton who hear a sound coming out of heaven, a trumpet sound, calling this generation to something more than good meetings and life as usual. We need men and women who are more than echoes of the past, but voices who prophesy what is to come. I believe those men and women are being prepared to arise and take their place in human history. 

Dr. Brian Simmons
The Passion Translation

All of his credentials are outweighed by his passion for revival and the supernatural fire of God...

John Burton has a long history of planting churches, pastoring, authorship and much more. However, knowing him personally, all of his credentials are outweighed by his passion for revival and the supernatural fire of God. I have no doubt that he has and would lay down everything for that cause. His radical faith mixed with undying pursuit has led him to encounter the Lord in miraculous ways including dreams, visions and fresh revelation. The bottom line is, John Burton has a message that the body of Christ needs to hear. 

Dr. Andy Sanders
5 Fold Media

John is dangerously prophetic, provoking passion in those in pursuit of revival...

John is dangerously prophetic, provoking passion in those in pursuit of revival. In just a few short years, I have witnessed the impact of his obedience to Christ in a region bound by division & religion. His mandate is one of radical devotion, raising up burning ones and releasing them into new levels in their kingdom assignment. 

Marcellis Smith
Lead Pastor Jubilee City
Detroit, Michigan

I would highly recommend him to anyone in ministry...

John Burton is a great man of God that is blessed with numerous gifts that serve as a blessing to the body of Christ. I would highly recommend him to anyone in ministry. He is full of integrity. 

Jeremiah Johnson

John Burton is a modern day revivalist...

John Burton is a modern day revivalist that sees and wants the heart of God to rise up in this present generation! I highly recommend him for any ministry you may be considering. In my opinion, he is like a modern day John the Baptist going ahead preparing people for the Lord! We had him in our church and we were not disappointed and neither will you be! 

Pastor Tim Martin

John is a true burning, shining lamp...

John is a true burning, shining lamp. He is crying out in the wilderness as a messenger from God to the city. He preaches and teaches from a pure heart. His books are incredible and enlightening. He's a great friend and trustworthy minister. He is gifted with media and creative ideas. John has lived the truth, there is no cost...the Lamb is worth it all. 

Annie Schumacher
Certified Professional Counselor and Pastor
International House of Prayer

If you want to empower your city and prepare your church for revival John is the one you are looking for...

John is an author, a powerful speaker and a man of God with a compassion for people. As an apostolic leader he has a heart for serving pastors and leaders. He has a lot of relevant teaching to share and is worthwhile to both invest in and to have him come and impart to you and your team. If you want to empower your city and prepare your church for revival John is the one you are looking for. His books and training material is also worthy of examination. 

Kerry George
Seminar Speaker

John won't serve yesterdays' manna, old wine, or an ear tickling message!

John won't serve yesterdays' manna, old wine, or an ear tickling message! His ears are tuned to hear the Word of the LORD and bring a piercing message to people who hunger for truth. Your community will be awakened, provoked, and equipped! Be prepared to encounter God, experience His power & presence and transform your world!

Chris Ferguson
District Pastor Forerunner Christian Fellowship
International House of Prayer, Kansas City, MO

A mover and shaker in the Kingdom of God...

John is relentless when it comes to pursuing a vision. He encourages his team to dream big, then helps them work hard at overcoming obstacles and get results. He's a passionate visionary, and a strong prayer warrior and intercessor. A mover and shaker in the Kingdom of God.

David Dailey

He lights fires wherever he goes leaving behind the unmistakable fragrance of the life of Christ...

John Burton is a man with unquenchable passion for God. His life is a living Epistle of the truth that the Kingdom of God is not just in word, but in power. He lights fires wherever he goes leaving behind the unmistakable fragrance of the life of Christ. I highly recommend his ministry to you.

Glenn Bleakney
President of Awake Nations

Booking John Burton is one of the wisest investments a pastor can make...

Booking John Burton is one of the wisest investments a pastor can make for his/her congregation! 

Val Keen

He brought clarity and vision and authority...

We were in the middle of a new church plant when John came. It had been difficult, to say the least. John came to bring change and that he did. Change to the ministry, change to the people and change to myself as well. He brought clarity and vision and authority. His word was confirmation of all that God had placed in my spirit. So glad he came! Looking forward to his next visit! 

Shelly Bishop
Pastor of The House of The Living God
Mineral Bluff GA

The anointing on John Burton's life causes the Word He releases to go right into your spirit...

The anointing on John Burton's life causes the Word He releases to go right into your spirit... to confront areas that need change and to bring the grace necessary to get it done. He speaks by revelation into the vision God has given you. I would recommend him without reservation to minister in your Church. 

Tina Baker

John's motives are pure and his passion to see real change, real holiness, and real radical faith advancing the kingdom of God is powerful and sincere...

I've known John and his wife Amy for several years and I can attest to their consistency and fervency when it comes to speaking the truth of the Word without compromise. John's motives are pure and his passion to see real change, real holiness, and real radical faith advancing the kingdom of God is powerful and sincere.  A great speaker and a great author. 

Pastor Kevin Hardy
Director
Chaplain's Assistance Program
IHOPKC